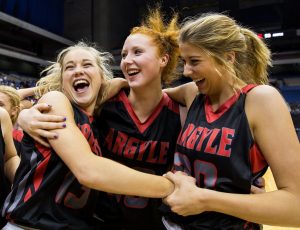 With two local teams coming off state championship seasons– and two other teams making the playoffs– the girls' basketball teams of southern Denton County have a lot to be excited about for the 2016-17 season.
The girls program that enters the season in the best position would have to be Argyle.
The Lady Eagles return four starters and five other lettermen players from last year's team that finished 35-1 and won a state championship.
Argyle enters the season as the top-ranked 4A team in the state.  The goal is obviously another long postseason run, but coach Skip Townsend is already anticipating possible trouble spots for the Lady Eagles along the way.
"A stopping-point this year could be in the regional quarterfinals where we meet up with Dallas Lincoln, our regional final opponents last year," Townsend said. "They are ranked third in the state."
Argyle will be led by a trio of players Townsend refers to as "the big three," which includes all-state players Vivian Gray and Madison Ralston, and Jocelyn Pierce.
The Lady Eagles also return last season's state tournament MVP Gabby Standifer.
Townsend said he anticipates Krum, Decatur and Bridgeport presenting the most problems in district for Argyle. He said that to have another long run into the postseason, it is going to take a couple of things.
"We will have to bolster-up our defense to be able to handle quickness; limit opponent's shots by blocking-out; and, have a balanced scoring attack," Townsend said.
Fellow Argyle girls' basketball powerhouse Liberty Christian is also coming off of a state championship season, but does not quite have the firepower returning this season that it had in 2015-16.
"We graduated five starters, so this is kind of a new deal for most of them," coach Ken Burroughs said. "We will just have to see how our younger players step up."
After a 48-43 victory over Prestonwood in the state championship game in 2016, plus multiple state titles in the last decade alone, it is difficult to imagine the Lady Warriors entering the season as underdogs; and, there is actually a good chance they will not be.
Liberty returns all-district selections Tatum Barber and Addisyn Goodsen and will have a transfer-in from Southlake at guard named Brooke Lay.
Following volleyball season, the Lady Warriors will get back 6'5″ post Bailey Lewis and could prove to be a pretty tough customer once again.
"We're going to have to be really good rebounders and defenders," Burroughs said. "We're going to have to play well on the boards. If we want to make the playoffs, we have to play good defense."
The Guyer girls' basketball team is coming off a strong 2015-16 season, finishing 23-8 and 13-1 in district; which tied the Lady Wildcats with Keller as district champions.
Coach Aimee Kilgore said that she has some strong returners this season that she believes will allow Guyer to continue the success it enjoyed last year.
"We have a new coaching staff who bring a wealth of knowledge, energy and passion for the game, which resonates in everything we are doing," Kilgore said. "We had a great offseason and even better preseason. The girls across the program spent their summer playing select basketball, actively training and doing skills. We have a strong foundation with seven seniors and four returning starters. Our roster also includes several strong underclassmen with previous varsity experience. We are excited to see what the season brings and how it all comes together."
The Lady Wildcats will look for several players to lead the way in 2016-17, including TABC All-Region selection and TCU-commit Lauren Heard; along with Sydney Meador and Avery Priddy, who both received District 5-6A honors last season and are three-year letterman.
Kilgore also expects strong seasons from juniors Katherine Silvaggio and A'Lexiss Benton, as well as Callie Boyles, a sophomore who "will be returning for us in the paint."
The Guyer coach said to repeat on the success the team enjoyed last season, the formula is very simple for the Lady Wildcats.
"First, we have to win ball games," Kilgore said. "That's a given. To get us there, it is going to require everyone putting in hard work, and persevering until the end. We have the talent and unmatched passion and purpose to get it done."
Over at Flower Mound, coach Sherika Nelson said her team appears to be progressing at just the right pace, so far. She said that this season should be exciting.
The Lady Jags finished 23-7 last season with a 12-4 mark in district, reaching the Area round of the playoffs.  Nelson said her players are performing well in every facet of the game.
"We have completed the first week of practice and things are going well," she said. "We are focusing on transition and getting up and down the floor. We are also focusing on being great on the defensive end of the floor and that will lead to great offense for us."
Nelson said she expects Abby Feickert, a senior guard, along with senior post Hannah Aucoin to be her team leaders this year.
"Juniors Anna Jackson and Melissa Johnstone and sophomore Whitney Cox are going to be key contributors as well," Nelson said. "I will expect these five returning varsity players to be our leaders and be consistent for us."
Nelson said the goals for the Lady Jaguars this season are to be consistent every night and "let our defense be our staple and create our offense."
The Flower Mound coach said she definitely wants her Lady Jags to make a push for the playoff race and be a contender in 2016-17.
"We will have to be very good defensively and score in transition," Nelson said. "We will have to control the boards and limit second-chance opportunities.  We must shoot the ball and take advantage of opponents' turnovers."
Over at Marcus, the Lady Marauders basketball team missed the playoffs in 2015-16 and lost its two best players in Lexi Cushing and Britney Roden to graduation.
The Lady Marauders reached the regional semifinals in 2013 and the regional quarterfinals in 2014, but have not made the playoffs the last two seasons.
Coach Jordan Davis came from powerhouse Celina in 2015 and won a championship at Baylor in 2005.