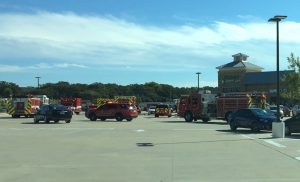 Medics treated 22 people for carbon monoxide poisoning and several businesses were evacuated at Lantana Town Center in Bartonville on Friday afternoon.
Argyle Fire District crews were dispatched at 11:50 a.m. to reports that multiple people were being affected with respiratory symptoms inside a business in the shopping center. Upon arrival, crews found high levels of carbon monoxide and hydrogen cyanide.
The source of the gas leak was found to be a generator that was running in a suite that was under construction.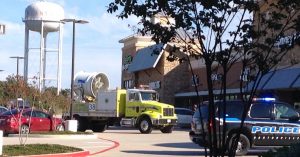 Nine businesses on the southeast side of the shopping center were evacuated as a precaution. The businesses were closed for six hours while crews worked to clear the air.
The odor was removed utilizing DFW Airport's Fan Truck, which is designed to clear a large area of toxic gases or smoke.
There were no serious injuries and no one was transported to the hospital, according to Argyle Fire Chief Mac Hohenberger.
"They monitored their blood levels on site, administered oxygen and purged their system of the carbon monoxide," said Denton County Commissioner Andy Eads.
Argyle was assisted by the Lewisville Fire Department, Highland Village Fire Department, Flower Mound Fire Department, Denton Fire Department, Justin Fire Department, DFW Airport, Bartonville Police Department, Denton County Sheriff's Office and Denton County Emergency Services.