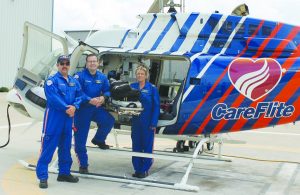 On occasion, Flower Mound residents may hear the distinctive whir of a helicopter with a patient as it approaches the helipad at Texas Health Presbyterian Hospital on FM 2499.
Onboard might be CareFlite paramedics Jon Whitener of Argyle and Dustin Brewer of Flower Mound, who offer their expertise and services to help people on the ground as firefighters, but also serve as flight paramedics for CareFlite.
Whitener is a full-time firefighter for the Lewisville Fire Department, while Brewer is a full-time firefighter for the Flower Mound Fire Department.
Whitener's inspiration for becoming a flight paramedic was twofold.
"My dad's a paramedic and my mom is a nurse practitioner and I've always enjoyed helping people," he said.
When Whitener was an Explorer Scout in high school, he enrolled in a program with MedStar, based in Fort Worth. He got to go along on ambulance rides and it gave him the opportunity to observe the work of paramedics first-hand.
His love of the work prompted him to enroll in paramedic school right out of high school.
Following his schooling, Whitener worked as a full-time paramedic firefighter, during which he was exposed to a variety of calls and different equipment. He applied to CareFlite's air paramedic program to broaden his education.
During the first month, Whitener attended classes learning standard operating procedures and rode in helicopters as a third rider; the other three riders were the pilot, a nurse, and another paramedic functioning as a "super team." Whitener was then under the supervision of a flight training officer for three to four months.
Whitener explained that even after training, new hires are always encouraged to ask their flight training officers any questions they might have. Whitener has worked as a CareFlite flight paramedic for nearly two years.
Whitener has enjoyed living with his wife Julia, a teacher at Denton Classical Academy, and son Weston, 10, in Argyle for six years due to its country feel, reputation as a safe place to live, and proximity to his and his wife's work.
Both Whitener and Brewer work 56-hours per week at their respective fire stations and 36-hours from their CareFlite base in Denton; but, Whitener explained that 12-hours always separates the two shifts.
Whitener said that no rescue incident stands out above others in his memory, since: "every call gives us an opportunity that is different. One person might have been bucked off a horse, whereas another one might have had a heart attack."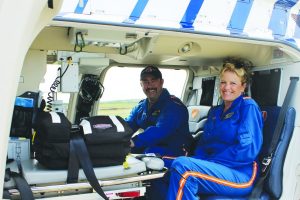 Brewer, who has lived in Flower Mound for a little more than a year, has worked as a Flower Mound Fire Department driver-operator for eight years.
He decided to become a Flower Mound resident to be close to his work and children. In addition, from his access to the town's inner-workings, he knows it's a good place to live.
Like Whitener, Brewer's interest in his profession began in his youth.
"I was always interested in firefighting, but I was also interested in medical stuff," he said. "People don't know it, but most fire departments are looking for paramedics. After high school, I was hired by a fire department and became more interested in the medical stuff; though I enjoy both sides."
He fulfilled his ambition to be more involved in the medical side when he became a CareFlite flight paramedic six-and-a-half years ago.
Whitener and Brewer work alongside Peg Chappell, a flight nurse from Hickory Creek.
She brings an extensive knowledge gained from working in the Emergency Room and Recovery Departments at Methodist Dallas Medical Center for 23-years prior to working for CareFlite,
"I love being a nurse," said Chappell. "There are so many areas you can work in, like obstetrics."
She began working at CareFlite in 1990; she then took off a year-and-a-half off, before returning in 1994.
"This fall, I will have worked for CareFlite for 23-years," noted Chappell.
She said it's strange she became a flight nurse, since: "I was always afraid of flying."
However, when she worked for Mother Francis Hospital in East Texas, the helicopter rescue team asked her to go along one time. She did, and since she liked it.
A six-year resident of Highland Village, Chappell moved to Hickory Creek 16-years ago, because she could keep her horses there.
CareFlite's outreach to critical patients and accident victims through the air is immense.
The nonprofit company has six helicopter bases located in Denton, McKinney, Dallas, Fort Worth, Granbury and Whitney. A fixed-wing plane is also stationed in Granbury.
CareFlite also offers ambulance services from ground bases and employs 700 people. Its leadership includes CEO Jim Swartz and Medical Director Dr. Robert Simonson.
The CareFlite Bell 407GX helicopter is not expansive; it holds one adult patient or in some cases, a pediatric patient with a parent.
Despite its size, the helicopter is a work of efficiency—every nook and cranny houses equipment necessary to save lives, including a ventilator, six IV pumps, a radio that enables communications with hospitals and fire departments, plus multiple IV fluids and medications.
Pilot Nico Bowersock explained that the outfitted helicopters are assembled in stages. The body is manufactured by Bell in Tennessee, but then the medical equipment must be installed and they must be painted, too.
Whitener said he had never had any safety concerns, because Bowersock and the other CareFlite pilots are excellent.
Whitener explained that each air base has a 150-mile service radius. CareFlite's area of ground operations extends as far north as McKinney, as far west as Mineral Wells, as far east as Kaufman County and as far south as Hill County.
"That means we might fly into Oklahoma or to Waco," said Brewer.
He also noted that CareFlite's services especially help rural towns, cities and counties, since they are not forced to use scant resources to cover emergencies. CareFlite teams can take patients/accident victims to facilities and the rural areas will still have their own ambulances available in case any other emergencies occur.
When asked whether they ever hear from former patients, Brewer replied: "That does not happen as commonly as you might think. Often, we don't know the end result, but one patient who was struck by a car, that we flew, made a good recovery. She and her family came to the base in Fort Worth. That was really cool."
These service heroes also participate in an educational program called Shattered Dreams or Deadly Distractions. Each year, the program presents students with a realistic and memorable simulation of a traffic accident caused by someone driving under the influence of alcohol or while on a cell phone.
During the simulation, ground CareFlite paramedics arriving in an ambulance first treat the most critically injured patient, before a CareFlite helicopter flight crew lands, loads and transports the patient.
The program is just one of the numerous ways CareFlite partners with local fire/EMS departments to teach the important message about the consequences of drunk or distracted driving.
For young people considering a career as a flight paramedic, Whitener advised that they: "gain as much experience as possible. Go along as a third ride, start getting into critical care lessons and work towards acquiring your FPC or Flight Paramedic Certification."
To learn more about CareFlite or to support their lifesaving efforts, visit www.careflite.org or call 877-339-2273.