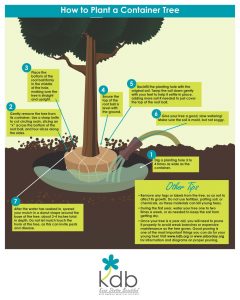 by Janet Laminack, Denton County Extension Agent
The best time to plant a tree was 20 years ago, but the second best time to plant one is now. Specifically the fall is the perfect time for planting trees in our area, in fact Arbor Day in Texas was the first Friday of November. Fall planting allows a tree to establish itself in the cooler temperatures of winter and spring.
When choosing trees, people often want a quick growing tree. Quick growing can mean quick dying, so it's best to be patient and pick a quality tree.
Some good choices for our area include oak trees like burr, chinkapin, red oak and live oak. Lacebark elm and cedar elm do well and pecans also make nice shade trees. But pecans are not a good choice for planting over driveways or for the squirrel-adverse.
You can also consider smaller trees or large shrubs such as redbud, crape myrtle, desert willow, and wax myrtle. True, these trees won't be gigantic shade trees, but they can make a positive impact and might be more appropriate and attractive by staying in scale with your home and smaller urban lot.
Most trees need to be planted in full sun, but some of the smaller understory trees need some shade such as Japanese maple.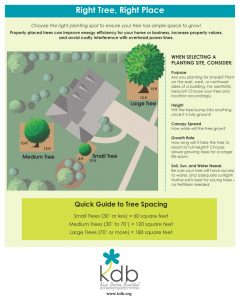 When deciding where to plant a tree, it's essential to consider its mature size. Consider how big this tree will be in 10, 20, or 30 years. Make sure you don't plant a tree too close to power lines, buildings or other trees. You also need to check that the tree isn't too close to anything underground as well. Before you dig, call 811 to have the underground utilities in your lawn marked for free. Planting trees or shrubs might seem like minor digging, but not knowing where underground lines are could put you in danger or disrupt service in your neighborhood. For more information, visit www.call811.com.
A few common mistakes when planting a tree are planting too deep, amending the soil and staking for too long. Keep the same soil line on the trunk once you plant it as it was in the container. If this kind of exactness makes you nervous, place the tree slightly higher. Some settling may occur and it is very important to make sure the tree is not too deep. Also, make sure the root flare is exposed on your tree. The tree shouldn't look like a telephone pole going into the ground.
Even though it seems like you are being kind to your tree by putting peat moss, potting soil or compost in the hole, you are not. You want to fill the planting hole back with the same soil that was removed. Putting in different soil creates a containerized effect and tree roots often won't move into the native soil.
Trees only rarely need to be staked and this is done to prevent them from popping out of the ground in strong wind situations. Trees should sway in the wind, this helps them develop rigid bark. Phototropism and geotropism should ensure that the tree grows upright, provided we continue to have gravity and the tree is planted in enough sunlight.
Mulching around a tree is recommended, so use about a 3 inch layer. Mulching will help lower the stress of your tree and hopefully prevent the common ailment sarcastically known as "weedeater blight." And even though it seems to be fashionable these days, please do not put the mulch up against the trunk of your tree and certainly not in a volcano formation. You do not want the mulch to contact the trunk.
Once the tree is planted, don't forget about it. For the first three years it will need more care while it gets established such as supplemental water and reducing the competition of weeds and grass. For more details on proper tree planting and more tree choices for our area, check out dcmga.com, email us at [email protected] or call 940-349-2892.