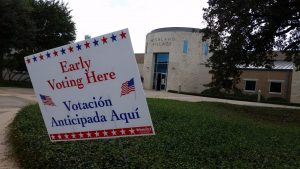 Today is your last chance to vote early and avoid the inevitable long lines next Tuesday.
Denton County voters can cast their ballots at a number of convenient locations today between 7 a.m. – 7 p.m.
On Election Day, registered voters must vote at their assigned polling site between 7 a.m. – 7 p.m.
Early voting sites in southern Denton County include:
Flower Mound Police and Court Building, 4150 Kirkpatrick, Flower Mound
Highland Village Municipal Complex, 1000 Highland Village Road, Highland Village
Double Oak Town Hall, 320 Waketon, Double Oak
Argyle Town Hall, 308 Denton St., Argyle
Lewisville Municipal Annex, 1197 W. Main Street, Lewisville
Justin Municipal Complex, 415 N. College Ave., Justin
Roanoke Library, 308 S Walnut St., Roanoke
See a full list of early voting sites here.
In addition to voting for federal, state and county level candidates, a special election will allow Flower Mound residents to determine whether to amend the Town Charter.
See a sample ballot for your area here.
For more information, visit the Denton County Elections website or call 940-349-3200.