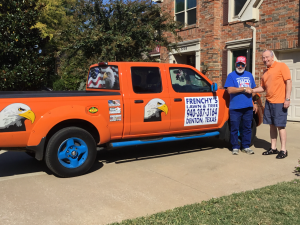 If you've been a Denton County resident for any length of time, especially if you've been active on social media, you've probably seen photos of that bright orange van with large letters on the side, providing heartwarming community messages.
Whether it's anniversary or birthday reminders, special events coming up, charitable organizations that need help, or support for our veterans, Frenchy's van has emblazoned those reminders on his personal North Texas tote board. He parks his "Van of Fame" in well-traveled areas around the county; perhaps as a reminder of how blessed we are to live in this country.
André J. "Frenchy" Rheault (pronounced row) has been a solid pillar of the Denton community for more than 20 years. Additionally, Frenchy's Lawn and Tree service is almost legendary for the amount of free service they provide for non-profits.
Rheault was born and raised in the French-Canadian community of Biddeford, Maine. He entered the Air Force in 1965 right after high school. It was then that he got the nickname that has become his "real" name. People he met in the service who were unfamiliar with French had trouble understanding that Rheault was pronounced "row" and he eventually accepted the pronunciation of "ree'-alt." However, he found it was easier for everyone to just refer to him as "Frenchy." In the video below, Frenchy talks, among other things, about his collection of eagles in photos, sculptures, paintings and every other possible manifestation you can imagine.
It was in 1974, while stationed in Big Spring, Texas, as an air traffic controller at Webb Air Force base, that Frenchy began the lawn service. Initially, it was a small business that his friend Charlie was starting to make a little extra money. The friend finally persuaded Frenchy to join him and keep him company. Shortly thereafter, Charlie received orders to go overseas and Frenchy "inherited" the business. He re-named it Frenchy's Lawn Service, and in a short time it had grown to employ 15 of his fellow air traffic controllers from the base.
It was also in Big Spring that Frenchy met his wife, Teri. She had moved there to work in a travel agency owned by one of Frenchy's lawn service customers. When Webb Air Force Base was closed in 1977, Frenchy was transferred to Columbus Air Force Base in Mississippi. Teri and the lawn service went, too! They were married in 1979 and lived in Columbus until Frenchy retired from the service in 1985. They moved to Denton and currently have five "kids" of the four-legged variety and Frenchy will tell you they are the best toy poodles on the face of the planet.
Early on, after several expensive loppers (long-handled scissors used for pruning twigs and small branches) were nearly left behind on a job, Frenchy decided to paint the handles of all his equipment bright orange so that they would be easier to see lying in the grass and be less likely to be left behind. Each spring, the orange paint was renewed. One spring, after moving to Denton, the painting was expanded to include the side boards on a couple of the pick-up trucks used for the business. In a burst of enthusiasm, the wheel wells of the vans (one blue, one red) were also painted bright orange. Throughout that season, Frenchy's wife and mother-in-law gave him such a hard time about the unusual color combinations that when the vans needed painting next, he decided to go with all orange and a legend was born! Frenchy's Lawn & Tree Service (the name change occurred in 1995 to more accurately reflect their services) now has 25 vehicles- all orange. The Denton County landscape wouldn't be the same without them!
Bob Weir is a former NYPD officer, long-time Flower Mound resident and former local newspaper editor.