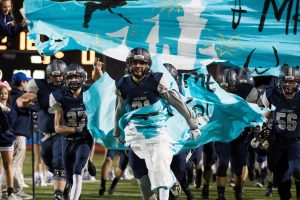 Here are this Friday night's matchups on the high school gridiron:
Guyer @ Allen
Perhaps the biggest game for southern Denton County schools this week comes when No. 15 Guyer travels to Allen to square off with the No. 3 team in the state.
The Allen Eagles are 6-0, while Guyer is 5-1, and both teams are 3-0 in conference play this season.
Allen has a number of players to watch in the game, but perhaps the best is quarterback Mitchell Jonke, who threw for 247 yards and three touchdowns last week in a 38-15 victory over Plano.
For Guyer, it's the two-headed monster of a rushing game with Noah Caine (941 yards, 12 touchdowns) and Myron Mason (742 yards, 8 touchdowns) that Allen will try to have to find a way to contain.
The game will be played at 7:30 p.m. on Friday at Allen.
Marcus vs Southlake Carroll
The Marauders will face their most difficult challenge of the season when they host Southlake Carroll, the No. 6 team in the state, on Friday night.
Marcus is coming off of a hard-fought victory over Hebron last Friday night, and a victory over the Dragons would be a huge win.
Carroll defeated Lewisville 49-7 last week and quarterback Mason Holmes threw for 222 yards and four touchdowns for the Dragons.
For Marcus, Justin Dinka rushed for 155 yards last week against Hebron and will have to be accounted for by the Dragons.
The game will be played at 7:30 p.m. on Friday at Marauder Stadium in Flower Mound.
Argyle @ Gainesville
The Eagles will try to improve to 6-0 on the season on Friday night when they travel to Gainesville to take on the 1-5 Leopards.
While Gainesville's record may not seem impressive, it is coming off of a 35-20 victory over Burkburnett last Friday.
The biggest threat for the Leopards is Calion Baker, who rushed for 868 yards and eight touchdowns so far this season.
The return of Dane Ledford at quarterback for Argyle last week was a shot in the arm to an already potent offense, as the Eagles QB tossed four touchdown passes and 286 yards.
The game will be played at 7 p.m. Friday at Gainesville.
Flower Mound @ Hebron
Flower Mound will try to make it three wins in a row on Friday night when it visits Hebron in it's fourth district contest.
The Jags are coming off of a 40-7 victory over L.D. Bell in which Jackson Averitt passed for 264 yards and three touchdowns to improve Flower Mound's district record to 2-1 and keep them very much in the playoff hunt.
Hebron is also 2-1 in district and coming off a 37-33 loss to crosstown rival Marcus last week.
The Hawks are led by quarterback Clayton Tune, who passed for 405 yards and two touchdowns against the Marauders last week.
The game will be played at 7:30 p.m. on Friday at Hebron.
Coram Deo vs Pantego Christian
Coram Deo is looking rebound from its first loss of the season last week as it prepares to host Pantego Christian this coming Friday.
Caleb Johnson connected with Ryan Rogers on an 86-yard touchdown pass for the Lions last Friday, but Coram Deo lost to Grace Prep by a score of 31-14.
The Lions will need to utilize the combination of Johnson and Rogers against the Panthers, who are 1-5 heading into the game.
One player Coram Deo should keep an eye on is Panthers running back Shawn Fullbright, who rushed for 128 yards and two touchdowns in Pantego Christian's only victory of the season.
Liberty Christian @ Trinity Christian-Addison
The Warriors will look to get things back on track after a week six loss to Parish Episcopal when they travel to Addison to take on Trinity Christian.
The Trojans are coming off of a major upset victory over Bishop Dunne, in which quarterback Court Walker had a career night, passing for 500 yards and three touchdowns.
The Warriors will have to find a way to contain Walker, and will look to their own quarterback Jon Copeland, who passed for 303 yards and four touchdowns last week in a losing effort.
The game will be played at 7:30 p.m. on Friday at Trinity Christian.