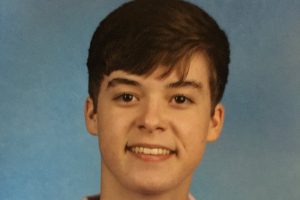 Michael Becker likes to be involved in as many activities as possible and has been known on occasion to even create his own.
The Liberty Christian senior is in the National Honor Society, Key Club, Mandarin Club and SOAK, a student-led bible study group, just to name a few.
"I like to try new things and challenge myself," Becker said. "I have played the trombone in the band for three years, and this year, I am the Drum Major for the Liberty Marching Band."
Becker, who carries a 4.32 weighted grade point average, traveled to Panama, Dominican Republic and Uganda on mission trips during his time in high school and said he never seems to tire of new experiences.
"I try to manage my time between extracurricular activities and challenging academics," Becker said. "I like that Liberty gives me the opportunity to try different things."
Becker added that one of the great things about being a young person is getting to enjoy as many new experiences as possible.
"The best thing about being a teenager today is found in all the opportunities presented before us," Becker said. "I feel we can truly be whatever we want to be."
The Liberty Christian senior is ranked second in his graduating class and said he has even taken part in the formation of a new club at LCS.
"One of my favorite activities, besides band, is participating in the HSL club that I helped initiate and create at Liberty," Becker said. "It is all about competitive electronic sports or e-sports for short."
The Flower Mound teen said he plans to pursue a career in business and said when he reflects back on his time at Liberty Christian after he graduates, one group of people will stand out to him.
"I will always remember the teachers more than anything else," Becker said. "The teachers are amazing at what they do and find ways to show that they care about you. I can think of dozens of times when I have stayed over an hour after school in conversation with a teacher or faculty member of Liberty. The teachers at Liberty really do show they care."
Becker's Favorites
Favorite Subject:  Math
Person who most inspires me: David Becker (my Dad)
Favorite Food: Cheeseburgers
Favorite Movie: The Pirates of the Caribbean Movies
Favorite TV Show: How I Meant Your Mother
Last Book I read: The Martian by Andy Weir
Favorite Musical Group or Performer: Taylor Swift