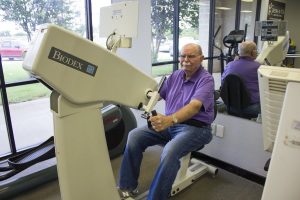 Rehabilitation or surgery: these were the two options retired engineer Steve Stephens faced after injuring his rotator cuff.
The 82-year-old Robson Ranch resident hurt his shoulder while helping his wife out of their car. After a trip to see his physician, he had the option to try physical therapy or begin planning surgery. Wanting to avoid a surgical procedure, Stephens decided to start with physical therapy in hopes of a full recovery.
Stephens decided to go to Fit-N-Wise for his rehabilitation since the Argyle clinic at Hwy 377 and Country Club is a short distance from his Robson Ranch neighborhood. Initially, he received care twice a week for five weeks. Stephens noticed the sessions helping immensely.
"Fit-N-Wise was wonderful. I virtually have no more pain. Cristina, my physical therapist, was very kind and professional. I would highly recommend Fit-N-Wise," said Stephens.
Stephens is now partaking in an at-home exercise program three times per week to further his progression. He says he is now 98 percent back to function and pain-free thanks to Fit-N-Wise.
Fit-N-Wise is affiliated with Wise Health System, an organization that provides inpatient and outpatient services to multiple locations, including hospitals, primary care and specialty clinics, physical therapy and rehabilitation centers, imaging centers and bariatric surgery program offices.
The newest addition to the system includes a Fit-N-Wise clinic in Denton and a surgical hospital coming soon to Argyle. For more information, visit Fit-N-Wise.com or WiseHealthSystem.com.