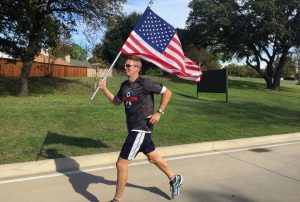 Veterans Day is coming up and Flower Mound is busy planning its third annual Veterans Day Relay Run set for Friday, November 11, from 9 a.m. to 5 p.m.
The Town is looking for relay participants to run a portion of a predetermined 48 mile route which traverses around Flower Mound. Each relay runner will run approximately one to two mile sections, commemorating our nation's veterans and their service by carrying the American flag.
The course will start and end at the Flower Mound Community Activity Center (CAC), 1200 Gerault Rd. and will be followed by a post-event celebration from 5 to 6 p.m. at the CAC.
Relay runners must be registered by this Friday, October 7, and can complete an online form found here: www.flower-mound.com/relay. All runners will receive a commemorative T-shirt, and priority will be given to local veterans who register to participate.
New this year, a maximum of 50 individuals are invited to run during the final mile of the relay run. Spots will be filled on a first-come, first-served basis. Participants must register online at www.flower-mound.com/relay and pay the $20 registration fee in person, or by mail, to the CAC.
In order to receive an event T-shirt, you must be registered for the final mile run by Tuesday, October 11. Those who register after this time, until registration closes on Friday, October 21, will not be guaranteed a T-shirt.
This year all proceeds will go to support the Victory Therapy Center, a local non-profit organization that provides services to improve the quality of life for individuals through equine therapy. Their program, "Horses for Heroes," provides equine-facilitated psychotherapy and therapeutic riding to meet the needs and improve the lives of military veterans and their families. Learn more about Victory Therapy Center by visiting their website.