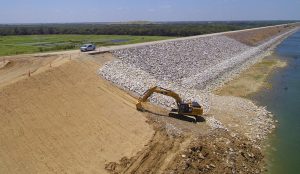 If the Lewisville Dam were to fail, it would endanger more than 400,000 lives and $22 billion in capital investments, said Stacy Gray, project manager for the Dam Safety Modification Study.
It is highly unlikely the dam will fail. To further reduce the probability of failure, the U.S. Army Corps of Engineers has proposed modifications to the dam in its Environmental Assessment because of the critical damage that would result if it did fail.
The Corps held a public meeting to answer resident questions and discuss comments concerning the dam modification proposal Tuesday evening at the MCL Grand Theater.
Read more from the Lewisville Texan Journal.