Fire up your brain cells to think big, like a Texan; then imagine 12-million-acres of Blackland Prairie.
Tall grasses wave in the August breeze. How tall? Try seven-feet. The locals say streams are so full of fish that a person can walk between banks on scaly backs. Maybe that's hyperbole; but, maybe not. What would you need to change this paradise?
While a magic wand is one possible answer, a simple plough– multiplied exponentially– will achieve the same result.  Throw in 150 years with railroad tracks, roads and airports to bring more people, who develop acreage into sleepy towns and bustling cities; and, what seven-foot grass?
Mother Nature's waterways overflow their banks from time-to-time. So, in the 1940s army engineers with heavy equipment built a flood-control dam. Behind the earth barrier is public land, which is today's Lewisville Lake Environmental Learning Area (LLELA), 2,000-acres of "urban wilderness" in varying stages of environmental restoration.
LLELA's Director, Dr. Ken Steigman, admits the task is huge but not impossible. His background?
"I grew up on a farm in central Pennsylvania, and spent a lot of my boyhood in the woods there," said the professional ornithologist. "My favorite subject in school was always biology."
In 1969, after junior college in Harrisburg, he decided he wanted to study birds (ornithology).
He laughs: "I tell people I did time in Huntsville–at Sam Houston State University," where the Biology Department offered ornithology classes.
There he received a Bachelor and a Master's degree before coming to the University of North Texas (UNT) for a doctorate in ornithology. His dissertation was about a Collin County ground-nesting prairie bird called a Dickcissel.
"I also have an artistic side, and designed and built exhibits at Texas A&M's fledgling natural science museum in Bryan," he said. He moved to McKinney to work as a Naturalist at the Heard Natural Science Museum.
"At the Heard I was an artist, biologist and manager of the wildlife sanctuary under Hal Laughlin, a herpetologist who was the original director hired by Mrs. Heard," said Steigman. "Hal didn't micromanage and I enjoyed a free-hand in my work."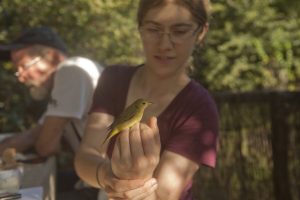 One museum visitor who offered engaging suggestions about the exhibits, then came back as a volunteer, turned out to be Jerome Conley of Smithsonian Natural History Museum exhibit fame.
"He taught me all kinds of terrific things about dioramas," said Steigman.
He first experienced prairie restoration during his time in McKinney.
"That seven-foot tall groundcover was Big Bluestem. Its roots went down 15-feet. We still find remnants of it here and there. A lot of this area was what ecologists call Blackland Prairie; a native Texas ecosystem."
The name comes from the heavy clay soil local gardeners call black gumbo.
The full-time LLELA staff members, plus thousands of students and volunteers, scout out and bring surviving stray grass clumps and seeds to the organization's nursery for propagation, then resettlement back in the LLELA wild. Where do they find the orphans?
"Along fence lines," he explained. "We run ahead of development bulldozers in seven counties!"
As LLELA restores the land, history becomes evident. Today's "wilderness" was yesteryear's ranch, farm and logging sites.  There is little untouched original habitat now.
Steigman also created the oldest bird-banding station in Texas.
"We put a little bracelet with our contact information on a bird's leg," he said. "When people spot or find the animal, they let us know. We follow our feathered friends' travels."
LLELA is open to the public thanks to its management team and leaseholders LLELA, UNT, Lewisville Independent School District and the newest team member, the City of Lewisville.  Twenty-five-percent of LLELA's real estate is inside the city boundaries. The lessees partner with Texas Master Naturalist clubs, Waste Management, R.E.I and Keep Lewisville Beautiful.
There's a $5 (only cash or checks, please) per vehicle entrance fee for parking and time on foot along the six-miles of trails through scenic hills, dales, marshes and ponds. Don't forget camping, paddling, and fishing in the preserve.  Just remember the park is primitive. There are clean ladies and gents "facilities" and trash dumpsters at the parking lots.
No wheeled, motorized vehicles or horses are allowed on the trails. Campsites are walk-in. Pack in your supplies and always pack your leftovers out.
"Our motto is "leave nothing but footprints, take nothing but memories and kill nothing but time." Are you up to that?
LLELA headquarters can supply campfire wood, because visitors may not cut or gather wood in the forest areas.
"We're a work in progress, of course, and last year's heavy rain gave us a few limitations this year," said Steigman.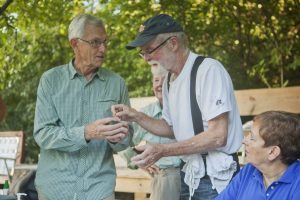 The Army Corps of Engineers needed to release flood water over the dam this past spring; the LLELA campground, for example, is still recovering.
One word of caution: leave Fido at home.
"We love dogs, but their presence stresses the wildlife," warned Steigman. "They may charge a sound or smell in the brush, leave droppings with unwelcome microbes, or bring in parasites.  Our only exception to the No Dogs rule is service animals that are always welcome with their owners."
Lisa Cole is a LLELA Naturalist and its Education Coordinator. She formerly worked at the Heard Museum with Steigman.
"We have lots of great activities for the public," she said. "These include hiking, paddling– bring your own kayak or canoe– camping, fishing, birding and fireless picnics. Groups may reserve our picnic pavilion and there are picnic tables in several spots along the trails."
For those who like Laura Ingall Wilder's stories about life on a prairie homestead, LLELA has a restored 1870's log house with a dugout, smokehouse and other period farm artifacts. The outdoor site, one-quarter-mile from the pavilion, is open for group tours on the third Saturday of each month.
In December, LLELA annually sponsors a "Homestead Christmas" at the log house. The fun includes food, music and crafts.
"For readers we have a Book and Hike Club. We schedule and supply the gear for kids' fishing events. Adults may fish at other times with licenses. LLELA campfire evenings include songs, stories, and yum-yum S'mores. Walkers can come for self- and guided-nature walks for all ages.
Those who wonder about things that go bump in the night should register for a LLELA night hike; but bring a filtered flashlight. Or perhaps, how about a star gazing party?  LLELA has the perfect spot away from city lights. And, for techies in the wild, there's a geo-cache trail adventure, courtesy of Eagle Scout Andrew Turner (Troop 415 in Lewisville).
Last, but not least, is LLELA's world famous Green Dragon. Ever seen one? It's a rare river bottomland forest plant (Latin name arisaema dracontium) that blooms in April, between the Beaver Pond and the Cottonwood Trail.
The safety rules are common sense stuff. Wear good shoes and bug repellant, stay on the trails, use a map, carry water and a cell phone, leave by closing time; and, don't pet the wildlife.
For details and information about upcoming events, fees and more, search the internet for llela.org/calendar then click "Visit" or call Parks and Leisure Services at 972-219-3560.