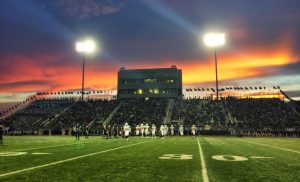 Only one game was played in southern Denton County on Friday night as the Argyle vs Abilene Wylie matchup was cancelled due to weather and Liberty Christian, Guyer, Flower Mound and Marcus are on their bye week.
Coram Deo 56, Lake Country Christian 28
Brooks King had touchdown runs of 40 yards and 75 yards and caught touchdown passes from Ryan Rogers of 70 yards and 57 yards as Coram Deo Academy improved to 4-0 on the season with a victory over Lake Country Christian on Friday night.
The Lions built up a 35-7 half time lead over the Eagles and never looked back.
Coram Deo will next play McKinney Christian at 7:30 p.m. on next Friday, Sept. 23, in McKinney.