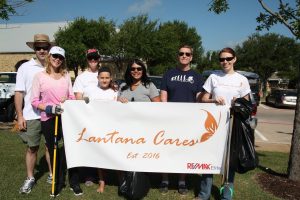 The recently-formed Lantana Cares group is on its way to becoming a 501c3 nonprofit organization.
Lantana Cares was founded late this winter by Lantana residents Bill Featherstone and Christy Wong, and held its first trash clean-up on March 5 at the community's Gazebo. Since then, the resident-empowered group has organized other clean-ups and assisted the Lantana Community Association with events.
Now, they have their sights on making a bigger impact in Lantana by having the ability to apply for grants and take on larger projects.
"The whole basis for us getting set up with a 501c3 status is so we could accept more sponsorships and do more for the community," said Wong. "Once we get this finalized and start accepting grant money then we're looking at taking on even bigger public improvement projects in Lantana."
Those who wish to volunteer or sponsor an event can contact Christy Wong at 972-697-3007.
"We're always accepting volunteers and we're accepting ideas as well, so if there's something in our community that people want to see, I want to know about it."