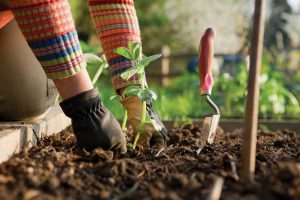 by Janet Laminack, Denton County Extension Agent-Horticulture
Fall is a great time to garden in Texas. Consider trying that vegetable garden again! We have great information about how to get started in vegetable gardening in this area on the Master Gardener website. There are also many opportunities to learn more about gardening or landscaping coming up.
Saturday, October 1, is our annual Fall Garden Fest which is a free event with gardening demos, exhibits, handcrafts for sale, speakers and kids' activities. This is held at Trietsch Memorial UMC Family Life Center, 6101 Morriss Road in Flower Mound from 9 a.m. to 3 p.m. Presentations include "Eating Fresh" by Chef Charles Youts of the Classic Café in Roanoke, "Edibles in your Landscape" by Master Gardener Janet Gershenfeld, and "Garden Harmony 101" by Steven Chamblee, chief horticulturalist of Chandor Gardens.
Have you ever thought about becoming a Master Gardener? Come find out more about this volunteer program on October 11, from 10 a.m. to noon at the AgriLife Extension office in the Joseph A. Carroll building, 401 W. Hickory St, Denton. This informal event will feature a social, refreshments and detailed information about becoming a Master Gardener. The deadline for applications to apply for the spring class is October 14. Classes begin January 31 and run through May 2, every Tuesday from 9 a.m. until 4 p.m. Cost is $240.
How about all of you do-it-yourselfers? Are you interested in designing your landscape but don't know how to get started? Join us for the "Design Your Yard with Earth-Kind Landscaping" class October 19-21. Space is limited and registration is required, cost is $50/per person or $75/couple. More information about this class is found on our webpage or by calling 940.349.2883. We will seek to provide reasonable accommodation for all persons with disabilities for our programs, please notify us in advance.
The Cross Timbers Urban Forestry Council, Keep Denton Beautiful, and the City of Denton are offering the "Citizen Forester Training Program" which is six classes on Wednesdays from 9 a.m. to 3 p.m. in Denton beginning September 14. This class requires 25 hours of community service towards projects that involve trees on public property. The course includes classroom and outdoor learning and costs $50, which includes light breakfast, lunch and all supplies. Anyone 18 years or older can sign up. Enrollment information is available at the Keep Denton Beautiful website.
And as always, if we can help you with landscape, lawn, tree, or garden questions, please contact the Master Gardener Help Desk at 940.349.2892 or email  [email protected].