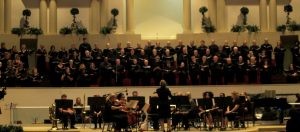 Musicians from several area churches and community choruses will present the 10th annual Rejoice concert on September 25, which benefits Lewisville-based Christian Community Action (CCA).
The performance of spiritual selections will be presented by combined chorus and orchestra members from the participating organizations.
Among the selections will be a very stirring arrangement of "In This Very Room", a Brooklyn Tabernacle version of "Total Praise", "Babba Yetu", a Swahili adaptation of "The Lord's Prayer", and "Come Let Us Worship", written by Dr. Patrick Bradley, minister of music at the host church, Westside Baptist.
The annual Rejoice concert, first organized in 2007, has raised $54,200 for CCA.
For more than 40 years, CCA has been healing, feeding, and educating families in need throughout Denton, Collin, Dallas, Tarrant and Wise counties. What started as a Bible study group of seven people in 1973 has grown into an organization of over 150 staff members, and more than 2,500 volunteers.
The Rejoice concert will be held at Westside Baptist Church, 900 West Bellaire Blvd., Lewisville, on Sunday, September 25, at 7 p.m.
The performance is free and open to the public, but donations will be accepted for CCA.