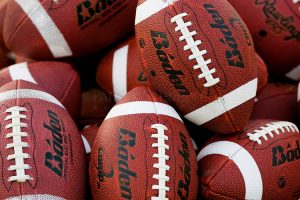 Southern Denton County football teams will be back in action on Friday. Here is a rundown of the matchups this week.
Argyle vs Celina
This one has all the makings to be a doozy, as the Eagles prepare for a top 10 team for the second straight week, and Celina will face an Argyle team for the second straight week.
The Bobcats come into Friday's game as the fifth ranked team among 4A Division II schools, holding off a late rally against Liberty Christian last week to even its season record at 1-1.
The Eagles will have to slow Celina running back John Franklin, who has rushed for 414 yards and four touchdowns in the first two weeks of the season.
Another big question for Argyle will be whether or not starting quarterback Dane Ledford, who suffered a wrist injury in week one against Lovejoy, will play.
The Bobcats will have their hands full with Eagles running back Don Williams, who rushed for 128 yards and a touchdown last week against La Grange.
The game starts at 7 p.m. in Argyle.
Liberty Christian vs Gilmer
The Warriors have run the gauntlet of non-district opponents so far this season and this coming Friday night, things do not get any easier.
Liberty will host 2-0 Gilmer, who heads into the game as the second best 4A Division II public school in the state and a team that scored 61 points last Friday night against Texarkana Liberty-Eylau.
The Warriors are hungry to get into the win column after going 0-2 in their first two contests, and the matchup to watch in this game could very well be quarterback Jon Copeland, who passed for 226 yards and two touchdowns against Celina last week, and Gilmer defensive back Kollin Hurt, who picked off 11 passes last season for the Buckeyes.
The game starts at 7:30 p.m. in Argyle.
Guyer @ Dallas Kimball
Guyer will look to get things back on track this Friday when they travel to Dallas to take on the Kimball Knights.
This should be a win for the Wildcats, as Guyer has averaged 36 points per game to Kimball's 10, but will have to keep an eye on Kimball defensive back Tracy Davis, who returned a fumble 95 yards for a touchdown in week one against Woodrow Wilson.
Running back Myron Mason has rushed for 301 yards and three touchdowns through his first two games for the Wildcats and should have a big game against Kimball.
The game starts at 7:30 p.m. at Jones Field in the Sprague Athletics Complex.
Marcus vs Mansfield
Marcus will meet the Tigers for the third time in two seasons, and it should make for a tough game.
The Marauders will have to contend with all-world running back, Kennedy Brooks (3,522 rushing yards, 42 touchdowns), who is playing at an exceedingly high level again, rushing for 272 yards and five touchdowns last week against Cedar Hill.
Marcus, on the other hand, presents its own beast at running back, as John Dinka, who rushed for 251 yards and four touchdowns last week against Arlington is licking his chops to get a shot at the Mansfield defense.
The game starts at 7:30 p.m. at Marauder Stadium in Flower Mound.
Coram Deo vs Dallas Covenant
The Lions look to start the season 3-0 on Friday night as they prepare to host Dallas Covenant at 7:30 p.m. At Coram Deo.
Dallas Covenant is 1-1 heading into Friday's game, losing 26-14 last week to Lake Country Christian.
Thursday night: Keller Timber Creek 38, Flower Mound 30
The Jaguars came up just short against Timber Creek on Thursday night, losing the Falcons by a score of 38-30.
Jackson Averitt combined for 325 all-purpose yards and three rushing touchdowns in the game for the Jaguars, but Timber Creek's passing game was too much.
Flower Mound is in its bye next week and will host Southlake Carroll at 7:30 p.m. on Sept. 23 to open up district competition.
Week 2: District 5-6A Football Standings pic.twitter.com/XGARg3OzSj

— Texas 6A Sports (@Texas6ASports) September 5, 2016