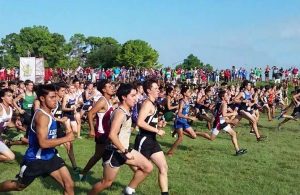 Coach Andrew Cook's Flower Mound High School Cross Country Team kicked off the 2016 season with Varsity Boys coming in second to 2015 Texas State Champs, Southlake Carroll, at the Marcus Invitational Meet held Saturday at North Lake Park in Denton.
With 83 teams on the roster and over 2,100 athletes competing, the Marcus Invitational is one of the largest Cross Country meets of the season.
Flower Mound's Alex Maier ran a 15:16.44 5000m to capture 2nd place in a field of 253 runners competing in Boys Varsity Elite.  Rounding out Boys Varsity Elite for Flower Mound were Nicholas Romanow at 16:28.85; Johnathan Flint at 16:41.37; Caleb Hughes at 16:54.84; Carter Moates at 16:59.03; Payton Ash at 17:08.19; Michael Romero at 17:28.53.
Laura Fairchild ran a 19:29.35 5000m to finish 30th in a field of 229 runners in the Girls Varsity Elite category. Braxton Shaw finished 45th out of 280 in the Boys Varsity Open at 17:48.92.  Erick Lemus placed 23rd in a field of 403 with a time of 18:35.19 in Boys Junior Varsity Elite. Meagan Hoffman ran 22:50.35 to finish 39th of 352 in Girls Junior Varsity Elite.
Timed by MileSplit, three Flower Mound runners met MileSplit's US Second Team Standard for Elite runners;  Alex Maier, Nicholas Romanow and Laura Fairchild.
For more information, visit www.tx.milesplit.com or www.fmhsrunning.com.
Submitted by Flower Mound Cross Country & Track Booster Club