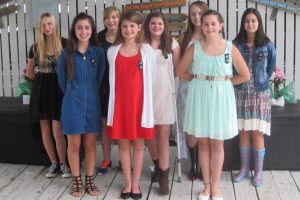 On Friday, Aug. 19, a ceremony in honor of Ruben "Ben" Mesa was held at Twin Coves Marina in Flower Mound, between the marina and supply house, in a covered area shielded from the steady rain.
The eight members of Girl Scouts of Northeast Texas Troop 3733, who sponsored the ceremony, didn't personally know Mesa. But, his 2015 accidental drowning, while attempting to put his boat away at the marina on Lake Grapevine, was the cause behind the girl's more than a year of working on the troop's Silver Award project.
Troop members include Caroline Brown, Sophia Zafiridis, Morgen Wirt, Malia Shomock, Emily Jones, Samantha Moore, Abigail Milton and Caroline Wilson. They are entering eighth-grade at McKamy, Shadow Ridge, Quest and Faith middle schools.
Their project involved researching water safety, followed by collaborating with the Cross Timbers Family YMCA Safety Around Water program, Twin Coves Marina and the Town of Flower Mound's Twin Coves Park. The goal– to educate the public about the dangers water can pose.
They collected more than 100 life preservers, hand-made wooden signs and raised money to purchase two large hard plastic storage bins for a "take-and-leave" program in Mesa's memory at Twin Coves Marina.
The special ceremony the troop held for a stranger touched Mesa's family and was attended by his widow, JoAnne Blanchette, plus sons Zachary, 18, and Aidan, 15. Thanks to Troop 3733, a huge negative was turned into something positive.
"Everything was decided by them, everything was purchased by them; they ran a budget," said Troop Leader Andie Milton. "They knew in sixth grade they'd have to do a Silver project, so they started researching things. We had talked with the YMCA which we had partnered with in the past. They said they had a need for swimsuits."
Troop members hosted water safety booths at area pools and Lake Grapevine, where they distributed Red Cross materials. They came up with the slogan of "Put It Down Before They Drown!" to encourage adults not to use their electronic devices while their children are in the water. They collected more than 100 swimsuits for the YMCA's Safety Around Water program that instructs youth how to swim at apartment complexes.
"About the same time they said they were going to need swimsuits for their water safety program is when this tragedy struck the girls," Milton said. "They were made painfully aware of how important life jackets are, because I own a boat at the marina. I know just about everybody whose boats are out here and none of us wear life jackets when we're putting our boats away."
Most members of Troop 3733 have been together since they were Daisy Scouts early in elementary school. While activities were driven by Milton and other parents when they were younger, today they are promoted by the girls themselves.
"The girls discovered the more life preservers that were available, the better off everyone is," said Milton. "We wanted to make sure everybody who came out here had the ability to get one."
Milton, who also is the area service unit manager for about 50 troops that feed into Flower Mound High School, said the girls did a good job of making people aware of how important it is to wear life jackets anytime while in the water.
"And, for the marina members, this is so close to home for us," she added. "I'm a member here [at Twin Coves] and I talked to a lot of other members who said: 'we just took it for granted—no danger between our car and our boat.' So, now I'm seeing kids coming down from their cars putting their life jackets on."
But, the girls are not yet finished. They will be creating a blog targeted to marina members explaining their project and the actual importance of wearing a life jacket. Then next year, they will place another bin with an additional 50 life jackets they've collected at the renovated Twin Coves Park when it re-opens.
"The fact they took this to heart … the boys are always down here and now that they can see this, they'll know their dad is doing something when they see other people wearing these life jackets," Blanchette said. "They're going to know these guys did it for their dad. For these girls to want to go out and make a difference in the community and make a difference for our family was special."
That project will be dedicated to the memory of [troop member] Emily Jones' father Doug, who died of a heart attack during spring break.