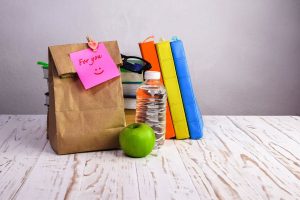 By Courtney Davis, Denton County Extension Agent – Family & Consumer Sciences
Back to school time is one of my most favorite times of the year.  I am one of those rare individuals who loves shopping for school supplies and I really enjoy seeing all of the back to school pictures on social media.  Back to school time also means remembering to pack safe and healthy lunches for your kids.
School meals are required to meet certain nutrient requirements and are healthy and inexpensive ways to make sure you child is eating nutritious foods.  If you're dealing with a picky eater or if your child eats slowly and you're concerned about the having enough time making their way through the line and eating their meal in the allotted lunch time, you may feel more comfortable making your child's lunch each day.  This can also be a great way to get your child involved in picking nutritious foods and teaching them about meal planning and food safety.  Plus, if they are involved in making their lunch, they are more likely to eat what you send.
When packing your child's lunch, try to include each of the food groups: grains (bread, tortillas, crackers, pita); fruits (fresh, dried, canned, 100% juice); vegetables (vegetable sticks are great for dipping in a favorite dressing); protein (meat and beans); and dairy (milk, cheese or yogurt).  Make food fun by changing up an old classic.  Rather than sending a turkey sandwich, send a sandwich on a stick by layering cheese, cubed lunch meat, cherry tomatoes and slices of lettuce on a skewer.  Rather than sending a whole apple, core the apple, fill it with peanut butter and top with raisins, seeds or coconut.  You can also create your own lunchable by including whole grain crackers or a pita, sliced or cubed cheese, lunch meat and canned fruit in 100% juice for an easy lunch.
Don't let your child get bugged by the lunch you send.  Make sure to follow proper steps to insure the lunch you send is safe to eat.  Wash your hands before beginning food preparation and make sure your surfaces and work area are clean.  Keep all perishable foods cold and keep packed lunches in the refrigerator until it is time to leave for school. Wrap foods in plastic wrap or foil to avoid moisture. Placing an ice pack or frozen juice box in with your perishable foods can guarantee that they stay cold until lunch is served.
Hot foods can also be kept hot by packing them in a wide-mouth insulated bottle.  Fill a bottle with boiling water and let it stand for a few minutes to allow the bottle to heat.  Heat the soup or lunch item to 165°F. Pour the water out of the bottle and replace the water with the food.  Keep the bottle tightly closed until lunch is ready to be served.
While an insulated bag is best, any container can be used to pack a safe lunch as long as you pack it correctly.  If using a lunchbox, make sure that they are cleaned daily and do not reuse any perishable food that was sent and returned uneaten.
For more information, contact the Denton County Extension Office at 940-349-2882 or email Courtney Davis at [email protected].