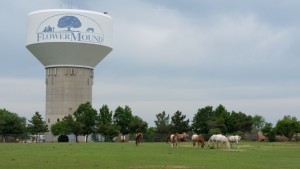 Town Closures in Observance of Labor Day
In observance of Labor Day, Flower Mound Town Hall, Municipal Court, Animal Adoption Center, Public Library, and Senior Center will be closed on Monday, September 5. The Community Activity Center will be open from 8 a.m. until 8 p.m. All trash, recycling and bulk collection will be suspended by one day, with the weekly collection wrapping up on Saturday, September 10. Police, Fire, and Emergency Services will remain in operation. Have a safe and happy Labor Day.
Registration Now Open for Flower Mound Citizens Academy
Flower Mound residents are invited to participate in the Flower Mound Citizens' Academy, where they will gain a better understanding of their local government and the services provided. At the same time, Town staff will gain valuable insight into the priorities and needs of residents. Sessions are held three times each month from 7 to 9 p.m. at various Town facilities, beginning in January and concluding in March, with a graduation ceremony scheduled in April.
Each week will feature presentations from Town staff representing various departments and is free to Flower Mound residents and business owners, 18 years of age or older, who are able to commit to all sessions. Registration is limited to the first 20 applicants. For more information and to register, please visit www.flower-mound.com/citizensacademy.
 Town to Hold a Public Hearing on Proposed Tax Rate
The Town will also hold the final public hearings on the proposed tax rate at Town Hall on Tuesday, September 6, at 6 p.m. For more information about the tax rate, please visit www.flower-mound.com/DocumentCenter/View/12284.
Nominate Outstanding Citizens or Groups for Recognition
Flower Mound leaders understand that the success of any community is built upon the efforts of individuals committed to making it a better place to live, work, and play. In an effort to recognize those who have given unselfishly of themselves in service to others, the Town is looking for nominations for the 2016 "Outstanding Citizenship Award". Anyone can nominate an individual or group, as long as the nominee is a Flower Mound resident/group, and displays at least two of the following criteria:
Strives to make a positive impact in the community
Enhances the Flower Mound community and the lives of its citizens
Addresses or fulfills a community need or concern
The recipient will receive a Proclamation of Outstanding Citizenship from the Mayor and Council, along with a small engraved plaque. Nominations will be accepted until September 30. Pick up your nomination form at Town Hall, 2121 Cross Timbers Road, or by visiting: http://www.flower-mound.com/OutstandingCitizen .
Flower Mound to Switch Waste Collection Providers October 1
The Town of Flower Mound will switch trash/recycling/bulk collection service providers October 1 from Waste Management (WM) to Republic Services. Starting mid-September, Republic will provide residents with 96-gallon blue trash carts and green recycling carts. Republic and WM will work together to provide residents with the new Republic carts and remove the WM carts. Residents do not need to do anything out of the ordinary, but continue to place their carts at the curb by 7 a.m. on their collection day. There will be a rate increase from $9.47 plus tax to $12.74 plus tax, which will include the following enhanced services:
Bulk/brush limits increased from 2- to 4-cubic-yards
Residents are allowed one free visit per month to the Camelot landfill with proof of residency with up to 10 cubic yards of household waste
Senior citizen discount has increased from $1 to $1.50 per month
Residents will also continue to have unlimited access to a household hazardous waste pick-up program, with collection directly from their home. For the majority of residents, collection days will remain the same. However, to improve route efficiency, a small number of homes will change collections days and the affected residents will be notified via mail and a door hanger. For more information, please visit http://www.flower-mound.com/trash2016 or call the Town's Customer Relations staff at 972.539.SERV (7378).
Get Involved by Joining a Town Board or Commission
The Flower Mound Town Coun­cil is currently accepting applica­tions for seats on various boards and commissions including the Animal Services Board; Board of Adjustment/Oil and Gas Board of Appeals; Environmen­tal Conservation Commission; LISD Liaison; Parks, Arts, and Library Services Board; Outstanding Citizen Committee, Planning and Zoning Commission; Cultural Arts Commission; SMART­Growth Commission; and the Transportation Commission. To learn more, or to apply online, please visit: www.flower-mound.com/boardsandcommissions. Applications will be accepted until 5 p.m. on September 9. For additional information, please call the Town Secretary's Office at 972.874.6070 or e-mail [email protected].
Introduction to Comprehensive Financial Planning
There's no time like the present to create a personalized financial plan, and the Flower Mound Public Library is helping make that process easy for everyone. Residents are invited to attend a free multi-part lecture series presented by Frank Rattan, Jr., a financial advisor with Edward Jones. Interested residents are invited to attend a few sessions, or all, depending on schedules and needs:
Tuesday , September 13 – Leave It, Move It, Roll It Or Take It: Know Your Employer Retirement Plan Options
Tuesday, October 11 – Retirement: Making Your Money Last
Tuesday, November 8 – Rules of the Road of Investing
Tuesday, December 6 – College – Getting There From Here
All sessions will start at 7 p.m. at the Library, 3030 Broadmoor Lane. To register, please email [email protected] or call 972.874.6165.
Lewisville Lake Symphony Concert Series Season Kickoff
The first concert of the 2016-17 Lewisville Lake Symphony season kicks off on Friday, September 16, and it's sure to be a show you won't want to miss. The performance begins at 7:30 p.m. at the MCL Grand Theater in Lewisville, and will feature pianist Baolong Zhang, winner of the 2016 International Piano Competition. In addition, University of North Texas School of Music graduate voice students will delight the audience with a variety of dynamic vocal selections. Attendees are invited to show up early, as Flower Mound High School photography students will have their work on exhibit in the lobby before the concert. Tickets are available online at www.lewisvillesymphony.com.
FM Library Presents Back to School Showcase
Don't miss the Flower Mound Public Library's Back to School Showcase on Saturday, September 17, from 11 a.m. to 2 p.m. This event is a great opportunity to learn about businesses and organizations in Flower Mound, that offer a variety of extracurricular activities ranging from sports, theatre, academics, volunteer opportunities, and much more! Representatives from the different organizations will be on hand to answer any questions, and register interested attendees.
 Gibson-Grant Log Cabin Volunteer Orientation
Following the discovery of a mid-1800s log cabin on the corner of Quail Run Drive and Flower Mound Road last year, the Town, Denton County, and the nation were buzzing. As restoration plans for the newly-named, Gibson-Grant Cabin get underway, the Denton County Office of History & Culture is searching for volunteers to assist with tours, programming, and archaeology. Denton County staff will hold a volunteer orientation on Monday, September 19 from 6 to 7:30 p.m. at the Flower Mound Police Department, 4150 Kirkpatrick Lane. Please RSVP by calling 940.349.2854, or emailing Gretel.L'[email protected].
'Dig Deep Into Databases' Presentation at Library
Are you frustrated with traditional search engines? If so, you won't want to miss this free presentation 'Dig Deep Into Databases' on Tuesday, September 20 at 7 p.m. at the Flower Mound Public Library. Attendees will learn how to find information using subscription online tools which are available for free to library cardholders. Attendees will also discover useful resources for career and business research, test preparation, language learning, homework help, and much more. To register, call 972.874.6165, or email [email protected].
2016 Fall Trash Bash and Environmental Fair
Don't miss the Keep Flower Mound Beautiful (KFMB) Fall Trash Bash and Environmental Fair set for Saturday, September 24. The community clean-up will be from 8:30 a.m. until noon, with the Environmental Fair kicking off at 10 a.m. and ending at 1 p.m. Both events will be located at the intersection of FM 2499 and Lakeside Parkway, in the Home Depot parking lot. All supplies for the clean-up will be provided by KFMB, and volunteers assisting in the cleanup will be fed lunch and provided an opportunity to win door prizes once finished.
The fair and clean-up are both free and will include activities for children, a shredding service for Town residents by Shred-It, electronic waste collection sponsored by Best Buy, a lightly-used clothing and housewares drive by Christian Community Action,  not to mention various booths full of information on positive environmental practices. To apply to be a vendor, or to register for the Fall Trash Bash, please visit: http://www.kfmb.org.
Let's Talk College: What You Need to Know Right Now
There are more than 3,000 colleges out there; how do you know which one is right for you? College can cost upwards of $100,000; how are you going to pay for it? There are many questions that come up when making a college plan, and residents are encouraged to get answers on Tuesday, September 27 at 7 p.m. when the Flower Mound Public Library hosts a college preparation class. Erika Dietz, local college planner and founder of Guru Academic Advising, will answer some of your biggest questions about college and help you figure out what you can do right now to set your student up for future success. Parents and students are encouraged to attend this free program together!  Don't worry if you can't make it on Tuesday, September 27; stop by for the repeat event on Monday, October 17 at 7 p.m. For reservations: please email [email protected] or call 972.874.6165.