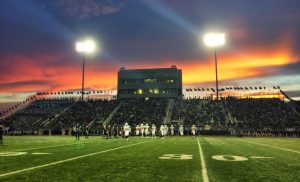 Here are your Friday night scores for Week 2:
Argyle 14, La Grange 8
Following a scoreless first half, Don Williams broke a 56-yard run for the Eagles to take a 7-0 lead.
La Grange took an 8-7 lead with under two minutes to play in the game, before Hayden Clearman scored on a 31-yard touchdown run to make it 14-8 Argyle.
Celina 55, Liberty Christian 43
John Copeland passed for 226 yards and two touchdowns to Kason Howell on Friday night, but it was not quite enough to defeat Celina.
The Warriors did come back from a 28-7 third quarter deficit, but could not pull out the victory.
DeSoto 51, Guyer 17
The DeSoto Eagles defeated Guyer by a score of 51-17 on Friday night in a game that former Wildcat quarterback Shawn Robinson passed for two touchdowns and rushed for a third.
Guyer running back Noah Cain led the way offensively, rushing for 129 yards and two touchdowns.
Marcus 50, Arlington 35
Running back Justin Dinka had a monster game for the Marauders on Friday night, rushing for 251 yards and four touchdowns to lift Marcus to a 15-point victory over the Colts.
Marcus improves to 1-1 with the victory.
Keller Fossil Ridge 23, Flower Mound 16
Ifeanyichukwu Uzowihe caught a touchdown pass and rushed for another touchdown, but it was not enough as Flower Mound moved to 1-1 on the season with a loss to Fossil Ridge.
Coram Deo 47, Gainesville State School 20
The Lions defeated Gainesville State School–a juvenile boys correctional facility of the Texas Youth Commission–by 27 points on Friday night to improve to 2-0 on the season.
Lewisville 28, Lake Highlands 24
Follow us on Twitter for news, weather, traffic and sports updates throughout the week.