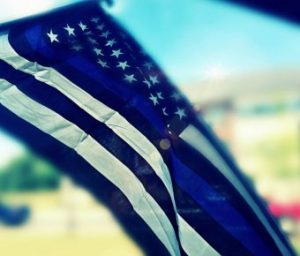 Rodney Ivester, of Corinth, has run afoul of his homeowner's association after posting a 'Blue Lives Matter Flag' to honor law enforcement in his Oakmont Country Club Estates community in southern Denton County.
The flag is a black and white version of the U.S. flag with a blue stripe.
"I love my country and I wanted to show my support for law enforcement and military personnel," he told Fox News. "I put the flag up so that I can honor the fallen officers and support those that are in the heat of the battle."
But someone had complained about the pro-police flag to the Oakmont Country Club Estates Property Owners Association and it had to come down. They accused him of violating a covenant.
"The Blue Lives Matter Flags must be treated with the same degree of restriction as any other flag except those flags that have special protection. The only Flags that are protected under Federal and/or State Law to be flown are the unaltered American Flag, Texas Flag and U.S. Military Flags. An alteration or modification of any of the above allowed flags from its official design changes that flag to something other than the actual flag that is allowed," stated a message posted by the Oakmont POA.
Ivester has not backed down and the pro-police flag is still flying – in defiance of the property owner's association.  That defiance could lead to fines of nearly $100 per day.
Read more here.