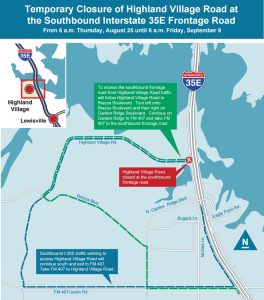 Highland Village Road will be closed continuously at the southbound I-35E frontage road from 6 a.m. Thursday, Aug. 25 until 6 a.m. Friday, Sept. 9.
The closure is needed to complete the connection between Highland Village Road and the new I-35E southbound frontage road.
Motorists are asked to use the following alternate routes:
• Access to Highland Village Road: Traffic will continue south on I-35E, exit to FM 407, travel and travel west to Highland Village Road.
• Access to the southbound frontage road: Traffic will take Highland Village Road west and turn left onto Brazos Boulevard, then make a right onto Garden Ridge Boulevard and continue to the southbound I-35E frontage road. See detour map here.
This work is related to the 35Express project, the $1.4 billion expansion of I-35E between U.S. Highway 380 in Denton County and I-635 in Dallas County. All closures are subject to weather conditions and may be postponed, if necessary.
For more information on the 35Express project and to sign up to receive traffic alerts, visit www.35Express.org or call 214-483-7777.