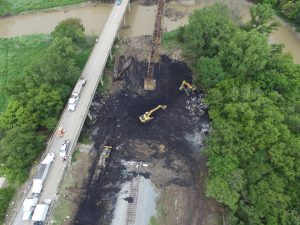 Hwy 377 between FM 1171 in Flower Mound and Bobcat Blvd. in Roanoke will be closed periodically as Union Pacific works to repair damage from the train derailment that occurred on Sunday.
Nightly closures for Friday and Saturday will run from midnight until noon.
Motorists should use I-35W between FM 1171 and S.H. 114 as an alternate route.
The coal train derailed at Denton Creek around 7 p.m. Sunday evening. No injuries were reported.
Union Pacific spokesman Jeff DeGraff said that 26 train cars derailed and Roanoke Police reported that five of them fell into the creek, which feeds into Grapevine Lake.
The railroad trestle over Denton Creek was severely damaged and will be rebuilt this week.