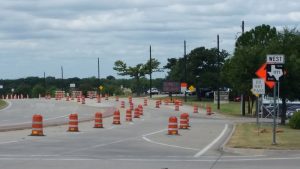 The newly-reconstructed lanes of FM 1171 in west Flower Mound will start to open up today.
The initial traffic switch by TxDOT will take place from Shiloh Road to just west of Tour 18, and will consist of all three westbound lanes opening to motorists.
Eastbound traffic will still utilize one eastbound lane until the existing temporary lane markings are replaced with permanent markings.
The section of FM 1171 between Tour 18 to just east of I-35W will open to traffic as soon as electric service is provided to the new Hwy 377 traffic signal, town officials said.
Motorists are encouraged to use caution while traveling in the area and pay special attention to signage.
The road project is approximately one year ahead of schedule, with full completion expected by late September.