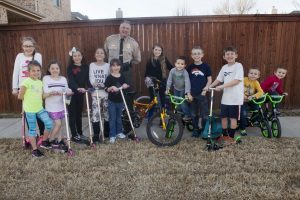 Purposeful Parenting is more important today than ever before.  In addition to the greater dangers surrounding our kids on a daily basis, such as kidnappings and peer pressure to partake in drugs or alcohol, we're coming further into the virtual age with the advent of augmented reality games such as Pokémon Go.
The game was released on July 6, 2016, and is sweeping the country.  People playing the game have made some startling discoveries.  One group discovered a body, and another discovered a gun.  We can't protect our children from everything, but we can protect them from a lot more things than we sometimes do, through Purposeful Parenting.
Of course, the main thing about Purposeful Parenting is to know what your kids are doing and who they're with at all times.
Pokémon Go just makes it more important than ever to be aware of their surroundings because as we all know, sometimes they aren't, and people often get so absorbed in the game they forget what's going on around them.  With younger kids, we can go with them and monitor what is happening, but as we all know, when kids get older, that's not as much of an option, some things you can do are listed below:
Where will they be playing the game?
Who will they be playing with? Playing in groups is far safer than playing alone.
"Most of the people that kids will meet up with are other enthusiastic Pokémon Go fans, but players of all ages need to be aware that these strangers might not have their best interests in mind. It's always best to play with a group that includes friends and a responsible adult, who can keep an eye on anybody they encounter."
When you can, play with your kids.
This is more difficult with older kids, but it's still a good idea for them to have an adult around. Players have been bitten by snakes, found dead bodies, and been robbed all while playing the game.
Be aware they can spend real money when playing to purchase premium items. 
"Although most people who play a freemium game like Pokémon Go or Candy Crush don't spend cash to get ahead in the game, a recent study from mobile marketing and research firm Swrve found that roughly 2 percent of active mobile game players make in-app purchases during a month. But those players are spending about $24.66. That can add up." 
Be aware that the game functions just fine when driving, so be sure to discuss this new form of distracted driving with your teenagers
6 in 10 teen crashes are caused by distracted driving.
Make sure your kids know that once they see a Pokémon, they don't have to take another step.
Just click it. Same if you see a monster pop up in the middle of traffic or at the bottom of a ravine. Just click it.  Don't take another step.  The game is set up this way on purpose.
As we all know, children and teens vanish on supposedly safe walks to school or to a neighbor's house every day.  They are in even more danger if they are not paying attention to where they are going.  Adults and kids alike are far safer in groups whether playing the game or not.
Knowing who your children and teens are playing with is just one way to help ensure their safety.  The more we know about the people around our kids, and their activities, the more likely we are to be able to protect them.