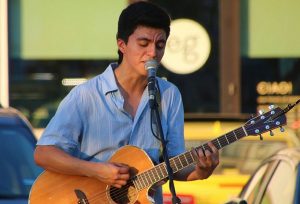 Jimmy Archie, managing partner of Realty Capital, master developer of Lakeside DFW, announced that the free Friday night concerts will continue through the fall.
He expects them to become a staple of the community.
"These free concerts appeal to music lovers and to people who enjoy socializing outside on Friday evenings," Archie said. "So with the cooperation of our retailers and restauranteurs, we're going to keep it going.
"We see the music series as one of a number of events that will attract people to Lakeside and familiarize them with our incredible owner operators and their products and services."
The owner operators, in fact, played a key role in extending the series.
"We have a really special group of retailers who work together to put on the event. Their ability and willingness to work for the common good of The Shops gave us the confidence to move forward."
The series began just over a month ago on July 8 with the appearance of country performer Crystal Yates. Since then, a variety of acts (from ragtime to rock) have performed.
This Friday night (weather permitting), 21-year-old Sebastian Valenzuela will make his second appearance. (Tune into Twitter or Facebook if the weather looks ominous.)
"Sebastian is back by popular demand," explained Mercy Little, proprietor of In The Box Pack 'N Ship who doubles as entertainment coordinator and on-site manager for the event.
"Last time, he had young and old up dancing. Everybody loved him. The audience even coaxed him to play several encores."
Valenzuela's repertoire includes a lively mix of old and new: from Billy Joel, Toto, and The Beatles to Jason Mraz, John Mayer, and Bruno Mars.
The So-Cal Tacos food truck will be on site for the event.
Little, who in a previous life managed large events for the Dallas Convention and Visitors Bureau as director of client services, brings a wealth of experience to Lakeside and its music series.
Many other owner operators contribute regularly to the music series as well by lending a hand in promotion, manning the information table, setting up, and closing down.
Attendees are encouraged to bring blankets or portable chairs.
Lakeside establishments open their restrooms to concert-goers on Friday nights (look for the list at The Shops information table).
The Shops at Lakeside currently feature a total 18 restaurants and retailers in a pedestrian-friendly environment. More shops and restaurants are scheduled to open in the next six months.