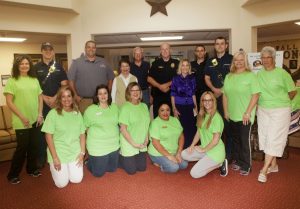 More than 160 members of the Flower Mound first responders' community were honored Aug. 17 at a special luncheon at Pinewood Hills Retirement Community.
The event was organized by Kimberly Pardi, community relations advisor to A Place for Mom senior care referral service, as a way to remind the community of all the good these people do amid the recent negativity.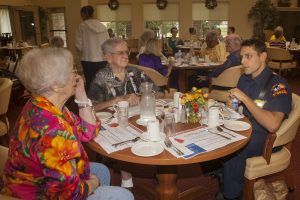 "I just wanted them to know we appreciate everything they do, especially with everything that's going on around the country," Pardi said. "We want them to know what important parts they play in the community and just say thank you to the EMS, fire and police departments and to recognize them and get to know them on a personal basis."
Members of the Flower Mound Police Department and Flower Mound Fire Department took turns stopping by Pinewood Hills to pick up their lunches supplied by sponsor Soulman's Barbeque.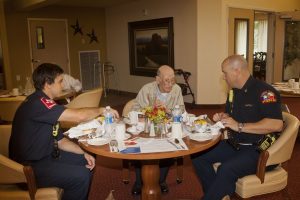 Pardi was helped in organizing the event by Jackie Archer of Advanced Rehab Trust Home Health, Lauren Robertson with Autumn Leaves of Flower Mound, Kelley Addison with Lake Village Nursing and Rehabilitation Center, and Carolanne Crossan of A Changing Season.
Other sponsors included ComForCare Home Care, Brookdale Senior Living Solutions, New Century Hospice, Community Care Pharmacy, Abby Collins Veteran Service Officer, and Matthew Tate with Fathom Realty and Hometown Heroes.