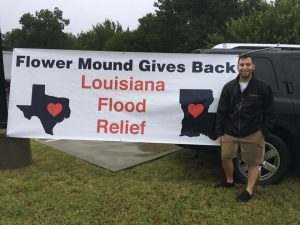 The devastating flooding in Louisiana has forced thousands of people from their homes with just the few things they could take with them in what is the largest natural disaster to hit the United States since Hurricane Sandy in 2012.
At least 13 people are dead and 40,000 homes are damaged, according to authorities.
Early estimates predict the relief effort could cost at least $30 million, a number which could grow as more is discovered about the scope and magnitude of the devastation.
A flood relief drive will be held this Saturday from 9 a.m. to 3 p.m. at Parker Square on FM 1171 in Flower Mound. The drive is being spearheaded by Austin Andrews, a Flower Mound resident originally from Gonzales, La.
Items requested include cleaning supplies, toiletries, household items and pet food. See list below.
Volunteers are needed to help collect items.
Dallas-based Trihaul Logistics will provide a 53-foot box truck to haul donations to Louisiana.
Items are being distributed to those in need by Fellowship Church in Prairieville, La.
Residents can also help by making a financial donation at redcross.org, calling 1-800-RED CROSS or texting the word LAFLOODS to 90999 to make a $10 donation.
Items Needed:
adult diapers
baby bottles
baby food and formula
baby supplies (formula, diapers, wipes, pacifiers, etc.)
band aids
bath towels and washcloths
bedding – king and queen
blankets and toiletries for shelters
blowers
bottled water
box cutters/knives
brushes
canned beans/dry beans
canned chicken/tuna
canned goods
children's and infant Tylenol
cleaning supplies
Clorox
comforters
crow bars
deodorant
diabetic socks
dried goods
fans
games and toys for children at shelters
garbage bags
good masks
laundry detergents
loaf bread
men's rubber boots and closed toe shoes
mouthwash
nonperishable food items
pacifiers
paper towels
pet food (dog and cat)
pillows
pull up diapers
razors
rubber gloves
shoes
square edge shovels
squeegees
toothbrushes
Tylenol, ibuprofen
Vienna sausage
wet wipes
Updates at www.facebook.com/FloMoGivesBackLAFR/