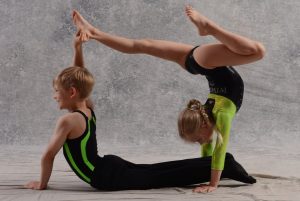 Micah Terrill, a Flower Mound nine-year old, took part in the USA Gymnastics Trampoline & Tumbling Competition, where he won the tumbling event and placed fourth overall in the nation for his age group.
What makes his ranking even more impressive is that he has been competing in trampoline & tumbling (T&T) for less than two years.
"Micah has been taking occasional recreational gym classes at Win Kids Sports and Learning for seven years," said Sonja Terrill, Micah's mother. "Last year, we asked about the T&T team after the season was mostly finished, and the (then) coach Kasie Abercrombie said Micah should join the team and try to compete at the last two meets, which were regionals and state.
"He did and qualified for nationals in tumbling only," she said. "He placed eighth in tumbling at nationals that year for ages eight and under."
Before nationals this year, Micah competed at five tumbling and trampoline meets at level five in the 9-10-year old category, and scored high enough in the state competition to qualify for nationals.
T&T meets have three events, including double mini, trampoline and tumbling.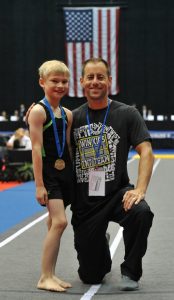 Micah's coach, Jack Lee, said that Terrill showed promise in gymnastics at an early age.
"Micah has always been a talented athlete," Lee said. "He's been flipping ever since he was in our preschool age classes.  As he has gotten older, we have worked on improving his tumbling and trampoline skills.  The sport is kind of a slow progression, so it's hard to say when I knew he was ready.  It just takes a lot of hard work and consistent commitment.  I'm very proud of how hard all the athletes work week in and week out."
Sonja said that she has noticed that the sport has helped her son in other ways, as well.
"It definitely takes a lot of discipline to train every week of the year, including summers," Sonja said. "He has also learned a lot from his coaches and teammates about teamwork and encouragement. All of his teammates, who are co-ed and whose ages span seven years, encourage each other during practices and meets; which builds a camaraderie that I don't think he could get anywhere else."
She added that Micah is not the only Terrill with tumbling in his blood, either, as little sister Summer is following hot on her big brother's heals.
"Summer has competed on the artistic gymnastics team at Win Kids for three years, where she competes in four different events," Sonja said. "She just turned seven and has qualified to be a level four gymnast for her next competition season. She also works many hours a week, but her competitions only go to state level. She finished state last year with a silver medal on bars for level three."
Micah said what he finds the most appealing about competing in tumbling and trampoline is the improvement he sees through hard work.
"I like going to practices, because I can keep getting better and learning new skills," Micah said. "My goal is to keep mobilizing (moving up levels) on all three events until I can get to level 10."
The siblings aren't the only ones keeping the gym hopping these days.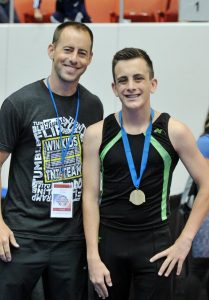 Win Kids teammate Quinn Maguire, 14, actually won a national championship on trampoline and finished third in the double mini event at nationals in his age group.
Maguire said he was pleased with his effort at the national competition, but said that there are always ways to get better, as well.
"I was decently satisfied with my performance, but there's always skills that you can improve on," Maguire said. "I feel that I could've pressed sharper and used more power for my flips. At practice, you have as many chances to perfect your routine. At nationals, you have one opportunity and you just have to make the best out of every skill."
The incoming freshman at Marcus High School said he plans to continue to pursue his passion at the high school level.
"I will try to maintain my skill level and improve through practice and experience," Maguire said. "High school will be a challenging new frontier, but gymnastics can always be a comfort zone, where I can get away from any stress or problems in school. It's like a safe haven."