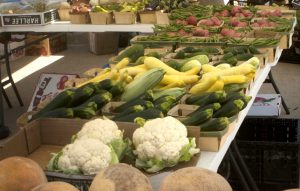 by Janet Laminack, Denton County Extension Agent-Horticulture
While interest in local food has been on the rise, there has not been a clear definition of what constitutes "local." Geographic distances between the grower and the consumer are commonly used, but can differ widely.
The definition adopted by the US Congress in 2008 states the total distance that a product can be transported and still be considered "a locally or regionally produced agricultural food product" is less than 400 miles from its origin, or within the state in which it is produced. That might make sense in smaller states, but in Texas?
What is well-recognized as local is the farmer selling directly to the consumer in arrangements such as community supported agriculture (CSA), farmers' markets or to restaurants. According to a study published by the USDA, statistics suggest that local food markets account for a small, but growing, share of U.S. agricultural production. These farms that are direct marketing to consumers tend to be smaller and rely on this type of marketing for a higher percentage of their sales than larger farms.
Agriculture in Denton County has and continues to be a large portion of our economy. With our land becoming more fragmented, we are seeing more interest in small acreage farming.
If you are a small acreage producer or have thought about getting into it, join us for a free class, "Direct Marketing Opportunities for Local Foods," presented by Dr. Marco Palma. This class well be held at the Denton County AgriLife Extension office in the Joseph A. Carroll Building, 401 W. Hickory Street in Denton on Wednesday, August 17, from 6:30-8:30 pm.
This class will be an overview of food consumption trends with emphasis on new challenges and opportunities for specialty food markets. The "Market Ready" program will be discussed and materials will be provided to assist producers in selling directly to specialty retail outlets.
Dr. Palma coordinates the statewide leadership for extension educational programs and applied research in horticultural marketing. He provides technical expertise and educational programs for producers as well as packers, shippers and those in wholesale and retail trade.
The class is a joint endeavor by the Denton Community Market through a USDA grant and the Texas A&M AgriLife Extension office. If you would like to pre-register or have questions, call 940.349.2883. Walk-ins will be welcome. We will seek to provide reasonable accommodation for all persons with disabilities for this program, please notify us in advance.
Texas A&M AgriLife Extension provides equal opportunities in its programs and employment to all persons, regardless of race, color, sex, religion, national origin, disability, age, genetic information, veteran status, sexual orientation, or gender identity.