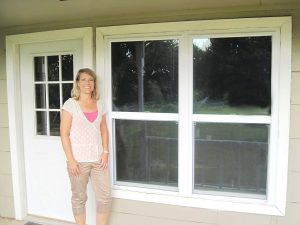 If windows, siding and/or doors are on your current fixer-upper list and you prefer to work with local people when purchasing such products, Holly Royer with Universal Windows Direct of DFW is the person to know.
The long-time Highland Village resident who moved to Flower Mound about a year ago has been with the company since January after looking for a career change as she wanted something where she could be her own boss and have more time for her children, ages 5 and 11.
Royer found such work after Universal Windows installed more than 20 windows and siding last fall at the property in western Flower Mound she and husband Steve purchased last year.
"He researched different companies and I did my own research and found they have the best quality product for the best price out there," she said. "We were impressed with their work."
She was impressed enough as a customer that after numerous discussions with them, she decided to get serious about working with Universal Windows.
"I never considered in my wildest dreams doing this," she said. "It's a very male-dominated industry for one. The other thing was I liked their products. I'm a horrible liar so if I can't stand by the product, I would never be able to sell it. I have the testimony in that I have these windows and the siding in my home."
While Royer's territory covers all of the Dallas/Fort Worth area, she focuses much of her time closer to home.
"I enjoy talking with homeowners," she said. "And really enjoy helping people make their home better. It's very intriguing as I get to meet all kinds of people."
To learn more about Universal Windows Direct of DFW, contact Royer at [email protected], by phone at 310-350-7849, at facebook.com/replacementwindowsdfw or visit universalwindowsdallasfortworth.com.