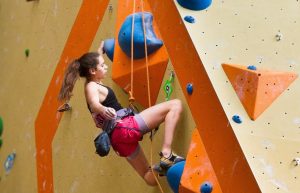 A new sport has just been introduced for the 2020 Tokyo Olympic Games– sport climbing.
For Flower Mound High School sophomore, Lauren Bair, who recently won a national speed-climbing championship in Atlanta on July 17, it's beyond exciting news.
"We are all excited for climbing to be an Olympic Sport," Bair said. "This sport is huge around the world and extremely competitive.  I would love to see it grow into a collegiate sport for future development of climbers, as it is in Europe."
Bair, 14, also placed fourth in the sport climbing event at the same competition and said winning a national championship was almost indescribable for her.
"I was so happy," Bair said. "That was my goal."
Sport climbing is a style of rock climbing that features anchors fixed to a rock wall that climbers scale.
Bair's grandfather, Joe Villanueva, has been her biggest advocate since she started the sport as a young girl.
Villanueva said that Bair started at the Flower Mound Life Time Fitness on the gym's rock climbing wall, when she was six years old.
"She flourished and developed in local climbing events there," Villanueva said.
At the age of seven, Bair joined the Grapevine Summit Rock Climbing Club and Team Texas. Villanueva believes his granddaughter has great potential.
"Lauren is turning 15 this month and should be 19 and in college in 2020," Villanueva said. "She looks forward to the challenge of competing for Team Texas, making the U.S. Team and making the Olympic Squad for climbing."
International Federation of Sport Climbing (IFSC) President Marco Scolaris said in a news release that his organization is thrilled about the sport's inclusion in the Olympic Games.
"It is a great honor to have been chosen," Scolaris said. "We thank the Tokyo 2020 Additional Event Programme Panel for this fantastic opportunity and the recognition within the Olympic Movement. Of course, there is still a long way to go and all of us at the IFSC are deeply committed to meeting the challenges ahead. Together with our athletes and the National Federations, we are reaching new heights."
Bair and younger sister Madison (also a top 10 Finalist at D-Level at Nationals) practice four times a week at Grapevine Summit and other local rock climbing venues and compete on weekends.
The Flower Mound sophomore said her plans now are to begin to prepare for World Championships to be held in China in November.