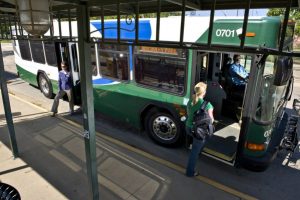 The Denton County Transportation Authority (DCTA) will provide complimentary shuttle service for the 29th Annual Highland Village Lions Club Balloon Festival.
The event will have fun activities for the entire family including races, kid zone, live bands, car show, 5k run, food, arts and crafts, and the iconic hot air balloons.
DCTA shuttles will operate Friday, August 19, and Saturday, August 20, every 20 minutes, from 5 p.m. to 11 p.m. DCTA will not operate shuttle service on Sunday, August 21.
The shuttles will pick up passengers at the Highland Village/Lewisville Lake Station and drop them off at Briarhill Middle School near the festival grounds.
Due to limited parking at the Highland Village/Lewisville Lake Station, festival attendees are encouraged to park at the Old Town or MedPark Stations and ride the A-train to the Highland Village/Lewisville Lake Station to catch the shuttle. The A-train will run its regular schedule during the festival. As a reminder, parking is free at all DCTA A-train stations.
Visit www.RideDCTA.net for more information about DCTA's complimentary shuttle for the Highland Village Balloon Festival. For more information about the festival, go to www.lionsballoonfest.com.