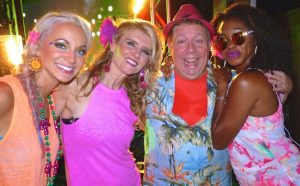 Escape the heat and enjoy a night filled with music from four area bands at the inaugural Uncorked Music Festival in Grapevine all in support of a great cause.
Uncorked: Music in the 'Vine will take the stage Friday, August 19, from 7–11 p.m., at The Laurel, located at 2040 Enchanted Way in Grapevine. Doors open at 6:30 p.m.
The Walton Stout Band, Zack King Band, Justin Mason and Big Town Rodeo have all donated their talent to the concert. Proceeds benefit the Grapevine Chamber of Commerce Foundation, in conjunction with the chamber's Women's Division. Proceeds will support local children with school supplies and senior citizens, by fulfilling Christmas wishes during the holiday season.
"We are very happy to help promote this great cause," says Bill Downing, owner of Walton Stout Band Productions. "There are many local children and senior citizens who need the help this organization provides, and we will do our part to support it. All you have to do is come and join us at Uncorked."
"The Zack King Band is very proud to call Grapevine home," says Rob Fenton, drummer for Zack King Band. "Our studio is near the beautiful shores of Lake Grapevine. We raise our families here. We write, practice and perform here. When we have an opportunity to support a cause and be a part of something for the betterment of Grapevine, we couldn't ask for anything more. We're doing what we love, with our friends and family, and in turn, it makes our community a better place."
General admission tickets are $50, and reserved seating tickets are $100. Admission includes small bites provided by 15 local restaurants and a beverage. Only 500 tickets are available for this charity concert event, and tickets can be purchased online at www.UncorkedGrapevine.com or by calling the Grapevine Chamber of Commerce at (817) 481-1522.
In 2015, the Women's Division raised $30,000 for school supplies for more than 1,600 economically disadvantaged Grapevine-Colleyville ISD students. The supplies were distributed at the school district's annual Back to School Fair in August.
"This year, we will again provide school supplies for more than 1,000 GCISD students to set them up for success this coming school year," says Karen Deakin, 2016 Chair of the Grapevine Chamber of Commerce Women's Division.
Additionally, each winter, with the support of volunteers and donations, the Women's Division Christmas wishes of more than 100 senior adult clients from GRACE, Grapevine Relief and Community Exchange.
"Through the support of our community, our program for local senior citizens provided $10,000 in gifts in 2015, and we look forward to delivering those Christmas wishes again this holiday season," says Deakin.