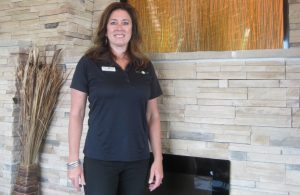 So what's a former Marcus High School chemistry teacher doing owning three spas? Promoting health and wellness, that's what.
The ability to do that is a major reason longtime Flower Mound resident Beth Baltmanis opened her first Massage Green Spa in her town in March 2015. She expanded this March by acquiring the Frisco franchise and opened her newest location in Highland Village in May.
While understanding the different stresses of owning a business, Baltmanis clearly is enjoying her new work.
"It's very, very rewarding to get to know people in the community," said the mother of seventh, ninth, and 11th-grade children. "That's probably the most important thing. And to bring a service that makes them happy in a place that's very relaxing."
Baltmanis wanted to own a service business and when husband Peter found relief from car accident injuries through regular massage sessions, she knew which one. Plus with a Master's degree in nutrition, the former resident nutritionist at the Fort Worth Zoo could put her knowledge of peoples' health to good use.
Massage Green provides its clients with luxury at an affordable price, whether it's massage, facials, or infrared sauna therapy.
Massage Green's eco-friendly business is built on members who pay a monthly family membership fee of $49.95 which entitles them to a one-hour massage with additional sessions within the month for $39.95. For an extra $10, members can receive a facial. Plus every membership is month-to-month with no long-term commitments. There's also no 30-day cancellation policy typical of other spas.
While Baltmanis delegates the hands-on spa work to her many licensed professionals among her 50 overall employees, she uses her people skills to promote and market her businesses. She counts on the consistency of her products to help bring in and retain customers.
Find out more about the nearby Massage Green Spas at massagegreenspa.com.