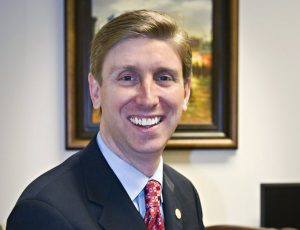 by State Representative Tan Parker
As the temperatures continue to rise and the summer sets in, we see more and more media coverage of accidents associated with hot cars. Like many of you, I have seen multiple news articles and clips on parents or guardians leaving young children in vehicles as temperatures soared into the high 90s during June. While it doesn't seem like these incidents could occur any more frequently, these tragedies peak actually in July and August. As I watched the late summer forecast of triple digit heat, the thought of another one of these horrific tragedies compelled me to bring more awareness to this issue.
From 1998 to date, 680 children across the United States have died from a heatstroke in vehicles. Sadly, more than 100 cases have occurred in Texas, making the state the 10th worst ranked state for these types of accidents. According to the National Highway Transportation Safety Administration (NHTSA), heatstroke is the leading cause of non-crash vehicle fatalities for children 14 and younger and one child dies from heatstroke nearly every 10 days from being left in a hot vehicle. It is unconscionable to think that on average 37 children will die each year from being overheated in a vehicle.
Generally, situations where parents leave children unattended in the backseat are not intentionally neglectful, but rather these cases typically occur when a parent, especially those with a newborn, are overwhelmed, stressed out, distracted or have changed their daily routine. While we often consider these emotions or routines as average and mundane, these situations in our daily lives can have tragic consequences on those we are meant to protect and love the most.
I call on all parents and caregivers to always check the back seat to avoid leaving their children in vehicles and not let their children play in the car unattended. From the exterior perspective of the vehicle, make sure the car's doors and trunk are locked and avoid giving your children keys to the vehicle.
Also, you cannot get by with using shade, windows left partially open, and tinted windows to reduce a car's interior temperature threat. An errand or drop-off of another child may just take a few minutes, but that is also the time needed for your car's internal temperature to become deadly.
Data has also shown that 29 percent of children who die of hypothermia get into the vehicle on their own with keys in hand. While many of us consider the Texas weather to be tolerable between 80 to 100 degrees Fahrenheit, the interior temperature of cars parked in direct sunlight can reach between 180 and 200 degrees literally within minutes. In an average adult, heatstroke occurs when the body temperature reaches 104 degrees. A child's body isn't as efficient as an adult's and warms 3-5 times faster.
Unfortunately, these accidents do occur and bystanders must step in. If you see a child alone in a hot vehicle, the NHTSA advises you to call 911 immediately. However, if the child is in clear distress due to the heat, get them out as quickly as possible for their own safety and worry about the repercussions later. In Texas, a person who leaves a child unattended in a vehicle can be charged under the state's child neglect laws.
As many continue to address this issue through awareness, some automakers are taking the matter into their own hands and producing cars equipped with safety features to remind parents of their precious cargo in the back seat. At this time, you can even purchase smart car seats or proximity sensors to help avoid these tragic accidents.
Experts for prevention also call on parents and caregivers to try certain tricks to aid in preventing leaving a child in a car. Some of the ones that have been shared with me include leaving your phone in the backseat, leaving one shoe in the backseat, creating a saying or song every time you enter and exit the car, and there are even phone apps that are helping alert parents. Whatever is best suited for you, it's worth the time and investment to have an extra reminder.
As a lawmaker and father, I am especially concerned about the safety of children and hope to keep prevention issues on everyone's mind. So whether you are a parent or just a more alert citizen walking by parked cars, I hope we can end heat-related car deaths and prevent these heartbreaking situations from ever happening.
As always, it is an honor to serve you in the Texas House of Representatives, and I welcome your feedback on this and any state issues. If you would like to share a thought with me, please feel free to contact me at my Capitol office at 512.463.0688 or by e-mail at [email protected].