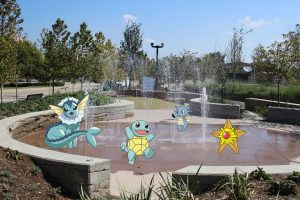 The City of Lewisville is partnering with Freaks and Geeks of Denton to host a free Pokémon GO meetup this Tuesday from 7-9 p.m. at Wayne Ferguson Plaza in Old Town Lewisville, 150 W. Main Street.
Attendees will be able to chase, capture and potentially train Pokémon throughout the evening.
The event will feature Super Smash Bros. Wii U Tournament sponsored by Freaks and Geeks of Denton, Pokkén Tournament sponsored by GameStop of Lewisville, lures dropped at every Pokestop in Old Town Lewisville sponsored by the City of Lewisville, and the original Pokémon television series playing on the main stage of Wayne Ferguson Plaza all night long. There are nine Pokestops and two gyms within one block of the plaza.
This is a free, family event. Attendees can bring their own food and drinks, and there will be a Sonny Bryan's Smokehouse food truck on-site. Well-behaved pets on a leash are welcome.
Wayne Ferguson Plaza is a 1.5-acre urban park between Lewisville City Hall and the MCL Grand theater that opened in October 2015.