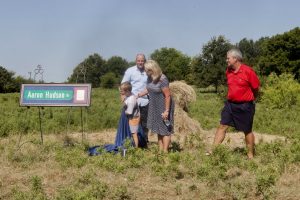 The weather on Saturday was typical for late July in Flower Mound—hot and sunny. Anyone standing outside for more than 10-minutes started to feel little rivers of perspiration begin to form.
For a group of more than 100 people, the heat and their discomfort in it was secondary to the reason they trudged up a gravely-path to gather together in an undeveloped, scrubby field on Waketon Rd.
Everyone present was there to honor the memory of Aaron Hudson; a 2002 Marcus High School graduate who made the decision in 2004 to join the U.S. Army.
Pfc. Aaron M. Hudson was a member of the 401st Military Police Company, 720th Military Police Battalion, 89th Military Police Brigade from Fort Hood. He was traveling in a convoy between Baghdad and Camp Taji, performing a routine patrol and delivering mail in 2005.
Hudson was the gunner in his military police team, charged with security at the rear of the convoy, when a roadside bomb exploded. A large piece of shrapnel shot through the 20-year-old's body armor and struck him in the chest. He died on April 16, 2005, in Iraq.
Hudson was posthumously awarded the Bronze Star Medal for Meritorious Service and the Purple Heart Medal for his service. He had conducted extensive research into which branch of the military he would join, before settling on being a military police officer in the Army.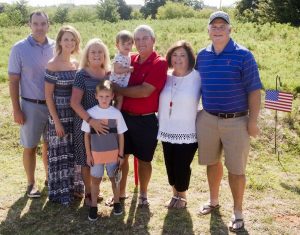 "He liked being called a soldier," said his father, Mark Hudson. "My son died doing what he wanted to do. As a father, you can ask no more for your children, than [they are] willing to help other people. We knew in the back of our mind that this could happen. He was there to help the Iraqi people."
Hudson was born May 17, 1984, in Dallas. His Highland Village family included older sister, Lezlie.
"Aaron grew up in Highland Village," said Annette Hudson, Aaron's mother. "It wasn't that long ago, but it was different back then. The bus stop was in front of our house and all the kids would wait in our front yard to ride to Briarhill. He rode his bike on those streets and fished in the town creek. There were a lot of influences– coaches in baseball and his friends and their families; they made him who he was."
He played select-level baseball, soccer and basketball growing up, but his main sport in high school was golf.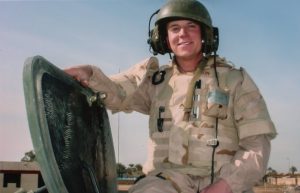 "He always felt at ease around people of any age, but especially around his grandfather's golfing buddies," said Mark. "He loved to play golf with those men. Those men loved him, too."
Hudson spoke to his family by telephone two or three times a week. The last time he spoke with his parents was to wish them a happy 25th wedding anniversary on the Tuesday before he was killed.
Hudson's phone calls and letters were never negative, Mark told the group who had gathered on Saturday. He did basic training at Fort Leonard Wood in Missouri. He liked having the 45 or so brothers.
"The food was never terrible, the conditions were never terrible," he said. "You would think the letters would start off with, 'This sucks;' but, they were never like that."
He added that his son's best friends were fellow soldiers.
"It makes us happy that his group of fellow soldiers have stayed close these past 11 years," said Mark. "And, that we're part of his Army 'family.' If we ever were to need something or help, they'd be there for us."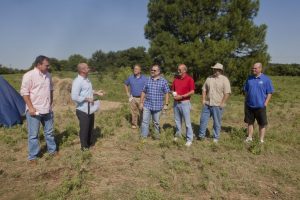 Among the many veterans attending the dedication on Saturday, were three of Hudson's close friends who served with him in Iraq: Sarah and Mike Martin, who drove from their home in Kansas City; and, Ryan Lowe, a Val Verde County Sheriff's SVU Detective, who traveled from Del Rio to honor his fallen comrade. He spoke of how much of an impact Aaron had made on his fellow soldiers back then; and, going forward with their lives.
"We all grieved differently; but, not a day goes by that we don't think of him," said Mark. "Time marches on and you can either go along with it, or you can go into a hole and stay there. Now … it's a different kind of 'normal.'"
Part of their new "normal" was the Hudson's decision to move to Dallas.
"The memories were very strong [in Highland Village] and we felt we needed to make a new start," said Mark. "But, we still have feelings for our friends and the people who live there."
Aaron's memory will be carried through with things like the street naming in the Hawks Hill development in Flower Mound.
Mark added that a church [that of his parents] in East Texas has donated funds to build a church in Honduras and Aaron's picture is in the church. He said having people do good things in Aaron's name means so much to his family.
"It's so very humbling to have people honor him," said Annette. "The main thing is that we're so honored that people haven't forgotten Aaron, It's a huge comfort for our family.
"We started to volunteer at the National Cemetery in Dallas to help others, but it's turned out to help us more than anyone else," said Mark. "Most people don't even know there's a National Cemetery in the area."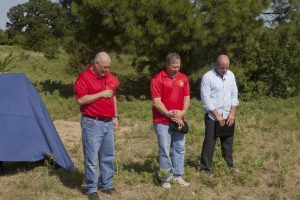 For her part, Aaron's older sister, Lezlie, and her husband, Jonathan Farrell, named their six-year-old son, Silas, to honor her brother. The couple also has a two-year-old daughter, Evelyn.
"It meant a lot that our grandson's middle name is Aaron," said Mark. "His sister, Lezlie, wanted to do that."
"Being surrounded by the people I'm meeting, I'm learning what a special person he was," said Hawks Hill developer Jeff Ramsey. "I didn't have Aaron's name in mind [for a street dedication] and one of my friends, Rachael Wilson, ran a marathon in Aaron's name in 2006. She suggested his name."
Wilson, herself a disabled Marine veteran, ran the Marine Marathon in Washington, D.C., with one of twin classmates [Denise Donnelly and Deborah [Donnelly] Byrd] of Hudson.
"I ran the marathon in 2005 for Jacob Lugo, after training and not having run in seven-years," said Wilson. "But, Deborah Byrd just ran it without any training at all."
Wilson is dedicated in her support of all military veterans, especially Dallas-based #22Kill, a non-profit organization focused on helping veterans transition into civilian life.  [For more information, visit: www.22Kill.com]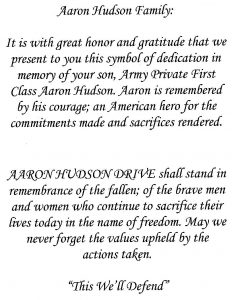 The idea to name streets in the new mixed-use development to honor those military or first-responder heroes is a visible tribute to remind residents of the ultimate sacrifice local citizens have paid in the line of duty.
The first street named in the development was in honor of the first Flower Mound soldier killed in combat during Operation Iraqi Freedom.
Marine Lance Cpl. Jacob R. Lugo, was assigned to the 3rd Battalion, 7th Marine Regiment, 1st Marine Division, I Marine Expeditionary Force, Marine Corps Air Ground Combat Center from Twentynine Palms, Calif.
Lugo, then 21, died on August 24, 2004, in enemy action in Anbar province, Iraq.
Raul Lugo, Jacob's father, was at the street dedication for Hudson on Saturday.
"We just want to bring recognition to the heroes who've served," said Ramsey. "It's a simple and lasting symbol to honor them and remind people."
Judging by the large group who attended the ceremony on Saturday– with only a few days' notice– Aaron Hudson will be long-remembered.