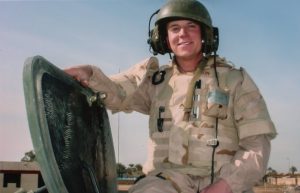 The dedication of a second street in Flower Mound's Hawks Hill development to a fallen soldier is scheduled for this Saturday, July 23 at 10 a.m.
In keeping with their intent to honor local fallen heroes, developer Hawk Ramsey has selected Pfc. Aaron Hudson of the 401st Military Police Company, 720th Military Police Battalion, 89th Military Police Brigade from Fort Hood who died on April 16, 2005, in Iraq.
Hudson grew up in Highland Village, was 20-years-old and a 2002 graduate of Marcus High School.
He was the gunner in his MP team assigned as the rear security of a convoy traveling between Baghdad and Camp Taji in Iraq.
An improvised explosive devise (IED) exploded next to his vehicle and a large piece of shrapnel shot through his body armor and struck him in the chest resulting in a fatal wound. Hudson was posthumously awarded the Bronze Star Medal for Meritorious Service and the Purple Heart Medal for his service.
The developers, Neal Hawk and Jeff Ramsey, have been active veteran supporters for more than a decade.
Hawk started an organization called Seats for Soldiers about 10 years ago after he saw a story on TV about Center for the Intrepid, a rehabilitation facility in San Antonio that treats Operation Enduring Freedom and Operation Iraqi Freedom veterans who have sustained burns, lost a limb in combat, or have had a limb amputated as a result of a combat injury. That organization is still active.
The idea to name streets in the new mixed-use development to honor those military or first-responder heroes is a visible tribute to remind residents of the ultimate sacrifice local citizens have paid in the line of duty.
"We just want to bring recognition to the heroes who've served," said Ramsey. "It's a simple and lasting symbol to honor them and remind people."
The first street named in the development was in honor of the first Flower Mound soldier killed in combat during Operation Iraqi Freedom, Marine Lance Cpl. Jacob R. Lugo.
Lugo, then 21, died on August 24, 2004, in enemy action in Anbar province, Iraq.
Saturday's ceremony will be held at 2901 Waketon Rd. (near the intersection with FM 2499). The public is encouraged to attend and honor Hudson.