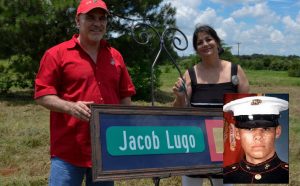 A portion of road inside a Flower Mound development is being dedicated to the memory of a fallen soldier.
Jacob Lugo Drive is being built directly across from WinKids off Waketon Road, just past FM 2499 before Rippy Road.
Lance Cpl. Jacob R. Lugo was 21 when he was killed by enemy action in Anbar province, Iraq. He was serving with the 3rd Battalion, 7th Marine Regiment, 1st Marine Division, I Marine Expeditionary Force, Marine Corps Air Ground Combat Center Twentynine Palms, California.
The Flower Mound marine died Aug. 24, 2004.
Right before leaving for Iraq, Lugo secretly married his girlfriend, Lori Shelton, whom he had known since grade school.
"We were looking forward to telling people once Jacob got back home," she told the Associated Press. "But it's not happening quite that way."
They planned to have a big wedding after he finished his 4-year enlistment.
Lugo was a machine gunner. He joined the Marines after he graduated from high school in 2001.
Lugo's father, Raul, also served with the Marines.
A small dedication ceremony was held late last month at the Waketon Ranch location. A larger dedication is planned once the road's construction is complete.