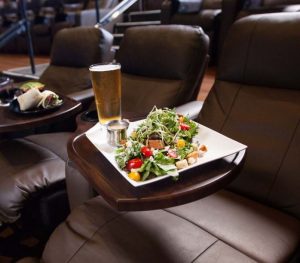 Texas is home to a growing number of dine-in theaters, and the Dallas-Fort Worth area is no exception. Several brands are now offering service at your seat and adult beverages to boot, but one company is doing things a little differently.
When Moviehouse & Eatery moved into the area, it brought with it plush, reserved recliners, wall-to-wall screens, and a full-service dining experience similar to others in the area. But they didn't stop there. A menu of chef-prepared, scratch-made dishes sets Moviehouse & Eatery apart from other dine-in theaters.
In 2014, Moviehouse & Eatery opened its first DFW location in Keller, followed shortly after by the Flower Mound location at Lakeside opening in 2015. Up next is a location in McKinney's Craig Ranch neighborhood set to open later this year.
The Texas-grown company is headquartered in Austin where their flagship location stands. From the beginning, the goal was to provide an exceptional experience at a great value. The reserved, plush recliners are hailed as the best in the industry and the handy red call button means your bottomless popcorn will never run empty.
The superior experience starts right when you walk in the door and doesn't end until long after the credits roll. The full-service lounge is stunning, the plush recliners are a treat, and the service supreme, but it's the Moviehouse's scratch kitchen that has upped the ante in the industry.
"When you take the time and energy to make food from scratch, you're taking the time to make a better product," says Executive Chef Brandon Hanna. "Freshness is important to us and if you start with something fresh, you'll always end up with better food. It does take time and it does take a lot of effort, but to us, it's worth it. It's not enough to just offer food and drinks. We want to serve really good food and really well-made drinks!"
Moviehouse & Eatery considers themselves a restaurant that also shows movies, not the other way around. No other theater is smoking all their bacon in-house, kneading their own pizza dough, or starting their mac and cheese with a three-cheese béchamel.
Each location has its own executive chef, two sous chefs, kitchen manager, and support staff that manage the enormous task of feeding upwards of 650 people in a single hour. It's no small feat but the Moviehouse believes keeping it fresh and making dishes in-house is the key to their success.
As the movie industry swings more heavily towards full-service, and more and more homes are decked out with their own media rooms, Moviehouse & Eatery is dedicated to giving their guests a reason to come back.
If you're looking to beat the heat this summer, give Moviehouse & Eatery at Lakeside a try. You and your taste buds won't regret it!
Moviehouse & Eatery is located at FM 2499 and Lakeside Parkway. Visit them at themoviehouse.com/flowermound