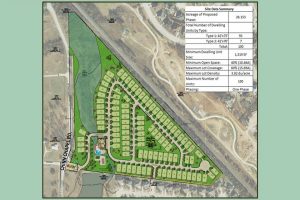 The Highland Village City Council on Tuesday approved the first read of an ordinance that would allow 100 homes to be built on the west side of the city.
Council members approved the rezoning of 26 acres on the east side of Chinn Chapel Road north of Chapel Hill Estates to allow for an age-restricted detached residential condominium development called Ladera Highland Village.
The applicant, G&A Consultants, on behalf of the Integrity Group, is proposing a maintenance free, gated community for those 55 and older, integrated with walking trails, parks and open space.
The developer has agreed to fund a right turn, deceleration lane into Ladera for traffic northbound on Chinn Chapel Road, similar to the one at Harlington Drive.
Also at the meeting, council members approved a resolution awarding the bid for the Canyon Creek Drive Drainage Improvement project to SJ&J Construction, LLC in the amount of $260,572.
Previously, council approved the engineering design of the Canyon Creek Drainage Improvement project in May 2015. Due to erosion around the culverts in the creek under Canyon Creek Drive, the culverts are failing causing damage to the pavement on Canyon Creek Drive.
Funding for the project comes from the 2016 Tax Note as well as FEMA reimbursements.
Council also approved a resolution supporting the Lewisville Independent School District in seeking fair and appropriate methods for educating local students.
At their own expense, LISD has uncovered grading errors in a significant sample of the state standardized tests that were administered to local students during the 2015 – 2016 academic year. The Council supports LISD in their efforts to promote fairness and consistency in the state testing system, as well as in their efforts to seek restitution for the expenses incurred attempting to correct grading errors made on the state standardized tests.
During the Mayor's Comments, Mayor Wilcox presented the winners of the Highland Village Balloon Festival Poster Contest.
Following the Mayor's Comments, Police Chief Doug Reim spoke about the recent tragedy in Dallas where four Dallas Police Officers and one DART Police Officer was killed in the line of duty.
The City of Highland Village, Highland Village Business Association, and the Highland Village Police Department support the Texas Police Chiefs Association's Fallen Officer Fund. The Fallen Officer Fund provides monetary assistance to Texas families of fallen heroes within 24 hours following an Officer's line of duty death.
Currently, the TXFallenPD shirt with the names of each Texas Police Officer killed in the line of duty since 2008 is available for purchase. All proceeds go directly to the Fallen Officer Fund.
The HVTV Update informed residents that July is Parks and Recreation month. The Parks and Recreation Department has many athletic leagues and community education classes, visit www.hvparks.com to sign up. The Update also encouraged residents to "Be a Hero" and volunteer to be on a board or commission. The deadline to apply is July 29.