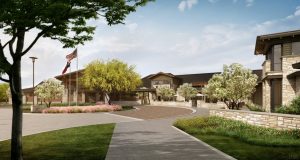 Avanti Senior Living at Flower Mound is holding an open house on Thursday, July 14, from 5 to 7 p.m. in its new welcome center, located in the iCare Rehabilitation Hospital, 3100 Peters Colony Road, Suite 100.
Attendees will enjoy wine tastings, cheeses and live music performed by Big City Band. There will be a raffle for a $500 gift card to the Gaylord Texan as well.
"We are eager to welcome seniors and their families out to hear about the culture of innovation that we are fostering at Avanti Senior Living at Flower Mound," said Tim Hekker, CEO of Avanti Senior Living. "Our vision is to provide seniors with connected, active and technologically-enhanced living, and I believe we have exceeded our original goals. Upon looking at our virtual tours and the welcome center – which is a close representation of the community – visitors will see our contemporary setting, which fuses classic and modern design elements to form unique, fashion-forward interiors. Avanti exists to transform lives, think outside the box, disrupt previous standards, innovate and inspire those we serve."
In the welcome center, seniors and their families can learn about the variety of amenities that will be available to them, including a state-of-the-art wellness center with ballet barre and fitness programs, a theater area, a full-service salon and spa offering relaxation therapy, aromatherapy, therapeutic massages, hair styling and manicures/pedicures. In addition, the community will have a fully-functional art studio with an abundance of natural light and a stone wall for displaying residents' artwork. Avanti has partnered with Juli Juneau, a blown-glass artist with a celebrity following, to adorn the community with custom artwork.
"Sometimes, the best way to convey a new idea or concept is to create an opportunity for an experience that embodies the very feeling you desire to evoke, which we hope to do with our new welcome center," said Lori Alford, COO of Avanti Senior Living. "Our change-driven spirit has helped us reimagine senior housing, and we are taking cues from the hospitality sector to provide a customizable, resort-style experience. Good things are coming to seniors who choose to live at Avanti Senior Living at Flower Mound. This is a lifestyle community in which our residents will feel ageless as they follow their passions, explore new interests, continue learning and focus on whole-body wellbeing."
Three-dimensional virtual tours and renderings will help showcase the community's layout and provide visitors with a distinct impression of the community's overall feel and design. Attendees will also be able to learn more about personalized services and living options that will be offered to residents.
Once the community is open, an "experience coordinator" will be available to customize personal preferences in regard to meals, activities, wellness, entertainment and more. A tech guru and a fitness coordinator will also be available to provide tech tutorials and advise residents on workouts and nutrition.
As for the suites, Avanti Senior Living at Flower Mound will provide 90 one- and two-bedroom suites that maximize living space. The suites will boast upscale textiles, expansive windows, walk-in closets, oversized showers, stone countertops, upgraded finishes on plumbing, appliances and other household features; extensive counter and storage space as well as other signature features.
Avanti's goal is to combine luxurious finishes with high-functionality and safety.
"Lori and I are leveraging our combined 50-plus years of senior living and healthcare experience to revolutionize assisted living and memory care," said Hekker. "We've created a stylish, stunning, vibrant and dynamic environment. Everything from the resident suites to the community-wide amenities has been designed with style, sophistication and comfort. We invite the public to come learn more about our first-rate amenities and intelligent technological solutions. Join "The A List" upon your initial visit and get priority selection of suites, discounts, special invitations and more."
RSVP to reserve a spot at the open house by calling 469-294-1080 or emailing [email protected].