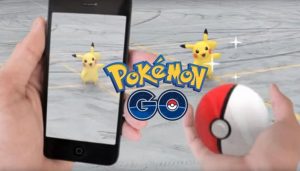 Pokémon Go is the latest gaming app to hit the market, and it's already a viral sensation.
The game sends players out into the real world using GPS to navigate around the area to find, catch and train Pokémon. It's revolutionary for the gaming industry, combining technology with a real-world experience, and is a big win for parents and children alike.
However, with it come some safety concerns. While the game offers everyone a unique experience, each player has access to the same map of hot spots, and younger players could find themselves in unsafe situations. Though it was only released July 8, there have already been reports of robberies tied to the app.
Here are some tips for you and your children to have a fun and safe Pokémon Go experience.
 1. Choose a Unique Nickname
When starting out on Pokémon Go, users are prompted to type in a unique nickname for their character. Have your children think of something creative or quirky to express themselves, but stay away from using your real name or information.
2. Don't Talk to Someone You Don't Know
It's easy to get caught up in a friendly conversation at a Pokéstop (a landmark you can collect items for the game), but be aware of who is around and what they are doing. If you feel uncomfortable at a location, take your kids somewhere else. There are TONS of Pokéstops all over, so find a safer location for your kids to level up.
3. Stay in Familiar Areas
This is a simple one, parents – set boundaries for your kids. Let them know where they can and can't go to catch Pokémon. Also, if you are driving your kids around on the hunt, stay in your neighborhood or an area you feel comfortable with.  You can get caught up finding your next Pokemon and, all of the sudden, end up somewhere you've never been before. Like we said earlier, there are plenty of Pokéstops around, so stay in a safe place.
4. Be Aware At All Times
If you are walking, especially in a busy area, put the phone down until you can find a place to sit or stand safely. And please…don't play and drive. Everyone wants to be a Pokémon master, but remember, safety first!
5. Protect Your Child's Online Presence
CACDC always recommends that parents play an active role in how their child connects to the digital age. Ask them for the password to their phone or other mobile devices, Facebook, Twitter, etc. Know what apps they have installed and be aware of hidden (ghost) apps.
6. Have Fun With Your Kids
Pokemon Go is for kids of all ages. If you are looking to spend a little time with your children this summer, why not download the game and join the experience? It's a great way to keep an eye on your kids and bond at the same time. Remember, younger kids may need more supervision.
For more information about keeping your children safe in the digital age, contact Children's Advocacy Center for Denton County at 972.317.2818 or
[email protected]
.