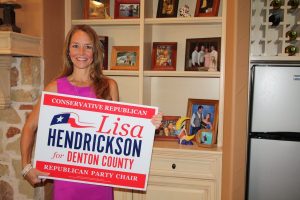 Lisa Hendrickson is newly-sworn in as one of Denton County's most influential elected officials and she promises to change the status quo.
The former Flower Mound resident, who has lived in Lantana for the past year, is the new chair of the Denton County Republican Committee. After beating Kelly Sayre in the March 1 election, the 45-year-old was sworn in June 13 replacing Dianne Edmondson, who decided not to run for re-election after holding the position for 14 years.
Hendrickson's election was different, in that it was contested (Edmondson normally ran unopposed) and her opponent was male. Denton County's penchant to vote Republican can make it harder for people to pay attention to what's happening; something Hendrickson wants to change.
"The worst thing you can do in life is get complacent," she said. "The moment you get comfortable you get lazy. I'm not saying anyone was lazy, but you can get comfortable when you keep getting 'redder and redder.' We've always done it that way and when that complacency settles in and we think we're 'red' and we're fine and we're Texas. Then, at the same time, Texas wasn't always 'red.'
"Denton County registered a little over 40,000 [voters] in the last election cycle and voter turnout was the exact same, which means we're not growing. So you have complacency."
Hendrickson wants citizens to end the complacency; become involved and to build and cultivate relationships to discuss issues, even if they don't agree on all of them.
"The point is to make it easy to know the issues," she said. "I'm not going to tell you who to vote for. My job is to build the party. My job is to build the farm team. My job is to educate you, to give you a conduit of information that you can gather and assess for yourself and to motivate you to get out there and vote.
"The job of the chair is to be neutral. I shouldn't pick candidates. I shouldn't pick favorites. My job is to help the Republican on the ballot. It shouldn't matter if I like you. My job is to help you get elected."
In talking to voters, Hendrickson learned too many people think politics only happens in Washington, D.C. Some didn't even know there was a county party committee much less a chair. So she will do whatever it takes to educate, inform, empower and inspire people so they have the knowledge to make the best decisions for themselves.
"To me, the most important thing we need to do is we have to educate voters," she said in the kitchen of her new home. "They don't know or understand the importance of local politics. They think everything's national. They're almost programmed to feel that way on every side."
Hendrickson knows there's a big divide in the Republican Party between the northern and southern parts of the county. By educating as many as possible, she hopes to find some common ground to repair that rift.
"We are very different," she said. "The demographics in Sanger and Oak Point are not the same as they are in Flower Mound. What's important to people in Sanger may not be important to people in Trophy Club, or Tour 18, or wherever. But, we have to take the time to actually ask people 'what's important to you' and how can we, as the party, help facilitate those goals."
Hendrickson's about understanding other points of view. She wants a return to civility, where people calmly discuss the issues of the day.
"Nine times out of 10, when you can sit down and try to understand where people are coming from, then you can exchange your ideas, they can exchange theirs and we realize that lobbing these bombs at each other, all we're doing is tearing people down," she said. "It's not helping us. We're not extending our hold on freedom in this country and the American way. All we're doing is yelling and screaming at each other."
The key is to have open discussions on all issues of the day, even if means agreeing to disagree on some issues and then move forward with issues of agreement.
Her secret to reaching some sort of accord is to discuss items issue by issue, build on things people agree on and work together on those issues while staying away from those not agreed upon.
"We're not going to have relationships with people until we get out of our borders, out of our homes, off our devices and talk about issues," she said.
After winning the election, Hendrickson was asked if someone who wasn't allowed in the party before, because she disagreed with leadership on the topic of abortion, would be allowed back.
"I said 'what do you mean, allow,' " Hendrickson said. "I'm not the Queen of Sheba. This is not a monarchy. I'm not God. I don't get to say who gets to go and who gets to stay home. Help me understand this. What has been going on?"
She also sees herself as a conduit between the older Republican guard and the younger generation behind her.
"When I decided to run, I believed I could be the bridge between the generation that's gone on before me and the generation that was coming up, because we must engage the young generation and get them plugged in," she said. "They are the most pro-life generation coming up and I think of all the men and women that have bled, and sweated, and died for all the freedom of this country to have it all go to pot is just frightening to me."
Hendrickson has long been active in politics plus marketing and education after earning her associate's degree in business, a Bachelor of Liberal Arts and a Master's in Education. A former product and television public relations and marketing executive, she's taught communications classes in high school.
She's supported by Jon, her husband of 21-years and owner of Inspired Stewardship construction management firm. They have a 16-year-old, Joshua, and a 20-year-old adopted daughter, Juliana.
Hendrickson's new position prompted her to close a small marketing and public relations business called Reigning PR. Good thing she did, with everything else she's involved with: member of the Board of Trustees of the Haggai Institute International; member of the Women's auxiliary Board of the Denton County Friends of the Family; Marketing and Public Relations Adjunct professor at Charis Bible College; and, member of the Leadership Team at The Bridge Church.
She's also a past-president of the Ladies of Liberty Republican Women's Club and former vice-president of the Flower Mound Area Republican Club; plus, she worked on the campaign of former Republican presidential candidate Rick Santorum.
That's a lot of involvement for someone who never wanted to be a public official.
"I swore I would never run for office and if I did, I certainly wouldn't do it for a non-paid position," she said.
What made Hendrickson go against her own thoughts?
"What always frustrated me was when people start complaining and then you ask 'who'd you vote for' and they say they didn't vote," she said. "You don't get to complain if you didn't vote, because by not voting you really voted. You picked the loser.
"So, when I was asked to consider running for this position, I spent three- or three-and-a-half-weeks doing a market analysis of Denton County precincts, towns, communities, the level of people moving into the towns, where are they from and realizing we're not as 'red' as we think we are.
"At that point I realized if I walked away, I will be what I've said I've not liked. Because if I walk away I'm as guilty as everyone else who's complained about stuff and don't vote."
To help people talk more, Hendrickson plans monthly social events across the county, starting July 21 with a Republican National Convention Watch Party at the Moviehouse & Eatery in Flower Mound. The 7 p.m. event will be open to the public for a $6 fee.
"We have a lot to do and a lot to accomplish," she said. "My personal opinion is, we run this party like a business or a corporation with measurable goals and provide a ROI to every single donor. This is what we are, this is what we're going to do and this is how we're going to achieve those goals. Based on that, we'll define a road map and how we're going to get there. Along the way we'll assess if we're on the right road; are we making the right choices or do we need to revamp?"
Before much can happen, Hendrickson will put together her proposed slate of officers who will be approved, along with the party bylaws. She then will put together her staff to carry out the party's daily business.
"I just want people to stop 'peeing in the sandbox' and stop throwing sand," she said.