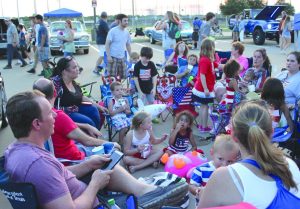 Children in Parade Say "Happy Birthday, America!
The Town of Flower Mound gave its children and those of nearby cities and towns the opportunity to say, "Happy Birthday, America!" July 4th. And those children (and adults and pets, too) did it in style, with costumes, uniforms, flags, facepaint, and smiles and laughter.
The weather could not have cooperated better—though thunder, lightning, and rain descended with a degree of ferocity the night and early morning before, the weather at the parade's starting time of 10 a.m. was temperate and cool.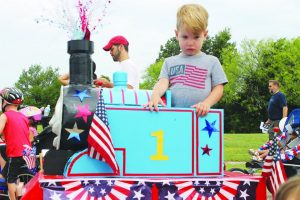 Flower Mound's dedicated policemen, firefighters, staff, and volunteers were in attendance to ensure safety and fun.
The parade ran from 1900 Timber Creek near the Flower Mound First Baptist Church several blocks to terminate in the parking lot of the Lewisville Independent School District at 1800 Timber Creek.
Greeting parade attendees in the LISD parking lot were the opportunity to engage in various activities like climbing a wall and swooshing down an inflatable slide, and partaking of refreshments (hot dogs with all the fixins' and beverages).
Independence Fest Was Rockin' & Rollin'
Independence Fest presented by Market Street offered approximately 20,000 visitors a Car Show jammed with modern vehicles, ones from bygone eras, and even a 1958 British tank and a Kids' Zone where children could run free with shouts of joy.
Plus, hungry attendees could choose from diverse selection of food vendors (who could resist a corny dog smothered in mustard or a softie?).  Independence Fest participants could purchase trinkets, enter contests, or receive information from festival vendors.
One was able to view every manner of costumes, hats, jewelry, and face paint all aimed to project people's love of the red, white, and blue that spell America.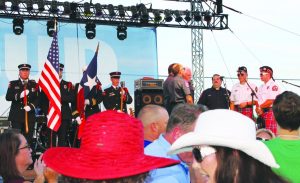 After Flower Mound Fire Department members led the large audience in a heartfelt rendition of the national anthem, two F16s fighter jets performed an exciting flyover.
Then, music from local Dallas bands Cherry Bomb and Le Freak and Canada's Loverboy flowed from the stage before the highly anticipated end of the evening—the fireworks. And those fireworks did not disappoint. The myriad colors in their unique designs were breathtaking and will probably be dreamed about by little citizens for a long while.
See more photos from the festivities here.