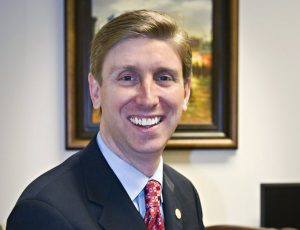 All across America, people will gather on the Fourth of July to celebrate the birth of our great nation. Since the first July 4th celebration in 1777, one year after the original 13 colonies proclaimed their independence, we have joined together as Americans on this day to reflect upon our freedom as a nation.
On the day our country's founding fathers ratified the United States Declaration of Independence 240 years ago, they affirmed our country as the world's strongest force for democracy and liberty. In creating the document dedicated to our independence, the authors provided what are considered three God-given inalienable rights we are granted at birth and for which our government was created to protect. These established fundamental rights we are blessed with form the basis of our society.
Many of us cherish this summer holiday as an opportunity to spend time with our family, but let us not lose sight of the true message of Independence Day. Drawing on the principles of our Founding Fathers, the courage of our armed forces, and the resolve of our citizens, we celebrate our culture on this blessed day by spending time with our loved ones and symbolically shooting off fireworks.
These bright lights have been a part of the United States' culture of celebration since John Adams wrote to Abigail Adams on July 3, 1776, before the Declaration of Independence was signed, citing his desire for fireworks to be apart of our celebration of independence or in his words, "illuminations from one End of this Continent to the other from this Time forward forever more."  Subsequently, the first commemorative July 4th firework display was held on July 4, 1777 in Philadelphia.  By 1783, firework displays had become available to a vast majority of the public and the tradition of lighting the sky in the name of freedom continues across America today.
During this Fourth of July holiday, I wish to express gratitude for the many blessings given to us by our Founding Fathers and to the brave soldiers who have sacrificed for our nation's ability to uphold the foundational values of life, liberty and the pursuit of happiness. Our strength and prosperity are proof of the lasting effect these founding principles have had on this great nation. American ideals remain powerful even today because they represent the universal freedom of all mankind.
Like many of you, I will be partaking in several of the celebrations throughout our communities this year. Regardless of where you are on this historic day, I hope you will join my family and me in reflecting on the ultimate sacrifices of our many great American patriots through the years.
On July 4th, I will be riding in the Trophy Club Parade of Patriots at 9:30 a.m. and am excited to celebrate our country's independence with the many citizens of Trophy Club. Trophy Club will also host the Patriot 5k & Fun Run starting at 7:15 a.m. at Byron Nelson High School and is hosting an Independence Day Celebration and Fireworks show at Independence Park East at 6 p.m.
Every year, I look forward to taking Beth and our two daughters to the Flower Mound Independence Fest at Bakersfield Park. Surrounded by family and friends, we picnic on the lawn and always enjoy the free concert in the park and magnificent firework display. This year, the concert features the 80's band Loverboy and fireworks begin at 9 p.m.  The full day of activities in Flower Mound start at 9:30 a.m. with the annual Children's Parade at the Lewisville ISD School Administration Building located at 1800 Timber Creek Road.
In addition, the Double Oak Volunteer Fire Department is hosting their 36th Annual July 4th Parade and Picnic at Double Oak Town Hall starting at 9 a.m.   The Town of Copper Canyon continues their annual parade tradition followed by hot dogs and refreshments at 9:30 a.m. On July 3rd, the City of Roanoke celebrates with family fun activities, live music and fireworks as part of Roanoke's Annual 3rd of July Celebration event from 7:30 p.m. until 10:30 p.m.
As always, it is an honor to serve you in the Texas House of Representatives, and I welcome your feedback on this and any other state issues.  If you would like to share a thought with me, please feel free to contact me at my Capitol office at 512.463.0688 or by e-mail at [email protected].