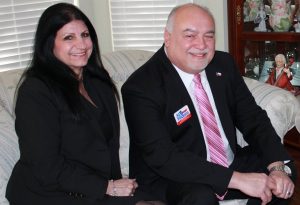 If you live long enough you will meet hundreds of people who will become acquaintances, those you occasionally spend a few minutes with in polite conversation. If you're lucky you'll meet a few dozen people along the way that you'll call friends. But, if you're very fortunate you'll run into a rare few that you will proudly call "buddies." Al Filidoro was a buddy!
As we often say when we lose people we respect; he fought the good fight. Whether it was his voice on the Flower Mound Council, leading the town in a direction he believed was best for his constituents, his voice in the courtroom, advocating for his clients, or his selfless devotion to the community at large, Al was driven by a willingness to serve.
A veteran member of the Summit Club, the oldest men's organization in town, Al was always ready to participate in the numerous charitable and educational activities performed by some of the most dedicated people in the area. He was the type of guy who never sat on the sidelines of life. If he was going to be a part of anything, he was going to make an impact on it. If you knew him at all, you knew he had strong opinions on many issues. Those opinions, coupled with his influence on the Council made him a controversial figure a few years ago. He certainly had his share of critics, but, he also had an ample share of dedicated supporters. When you insert yourself into the political arena you know the brickbats will be headed your way. However, what would happen to a community if it didn't have people willing to accept the slings and arrows of their detractors?
Al and I didn't always agree on issues or methodology, but, I always respected his motives because I think I knew his heart. When we disagreed we'd just smile and change the subject. Besides, whenever we got together there was plenty to smile about. Terry Filidoro, his lovely and absolutely charming bride, was the perfect companion and, as a paralegal, the ideal partner in his law firm. Al had many talents, not the least of which was his skill with a skillet, so to speak. He and Terry were part of our monthly dinner group. When Al was in the kitchen he was like a virtuoso, orchestrating a multitude of instruments on the stove and in the oven. Everyone in our group does a fabulous job during their dinner evening, but, I know they'd all agree that we eagerly looked forward to Al and Terry's turn at bat.
In addition to so many other interests, Al was also a musician. He was part of a 5-man band and he played a mean set of drums. My wife Annette and I had the pleasure of sitting in on a couple of jam sessions at his home and were blown away by the powerful performances. He was also into classic cars, recently purchasing a mint condition, red, 1957 T-bird convertible, a car that he had always dreamed of owning. I think Al accomplished most of the things he set his mind on doing. Most importantly, he was a father, a husband, a brother and a loyal friend to all who were blessed to be in that category. We miss him already! But, as a philosopher once said; don't mourn too hard for those you've known and lost, just be thankful for having known them. Rest in peace buddy!
Bob Weir is a long-time Flower Mound resident and former local newspaper editor.